Customer Newsletters
Hot Off The Press. And Old News Too.
Browse our free monthly newsletter, Pipelines, where you'll find the latest water-saving tips and updates from IRWD on topics like:
District events
Water supply information
Water-saving irrigation scheduling
Rebate programs
Bill payment options
Current water news
To receive, via email, an electronic version of Pipelines each month, please email info@irwd.com and type "Pipelines eNews request" in the subject field.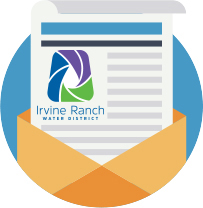 Rightscape
Right plan.
Right plants.
For plant ideas, designs & drought tolerant landscape information
More Info
Latest Events
Turf Be Gone
Feb 12, 2020
06:00PM
-
08:30PM
IRWD Multi-Purpose Room15600 Sand Canyon Ave.Irvine, CA Learn the steps to remove your lawn and replace it with a water-efficient gard.