Microplastics and IRWD
IRWD's drinking water is safe
The drinking water we provide to homes, businesses and schools is safe and meets all quality standards set by both the state and federal government, and IRWD is leading the way on testing for microplastics. IRWD water quality experts continuously monitor the water supply and conduct hundreds of laboratory tests each year from water taken from sample points throughout the IRWD service area. The test results are published by IRWD in the annual Water Quality Report, also known as the Consumer Confidence Report.
What are microplastics?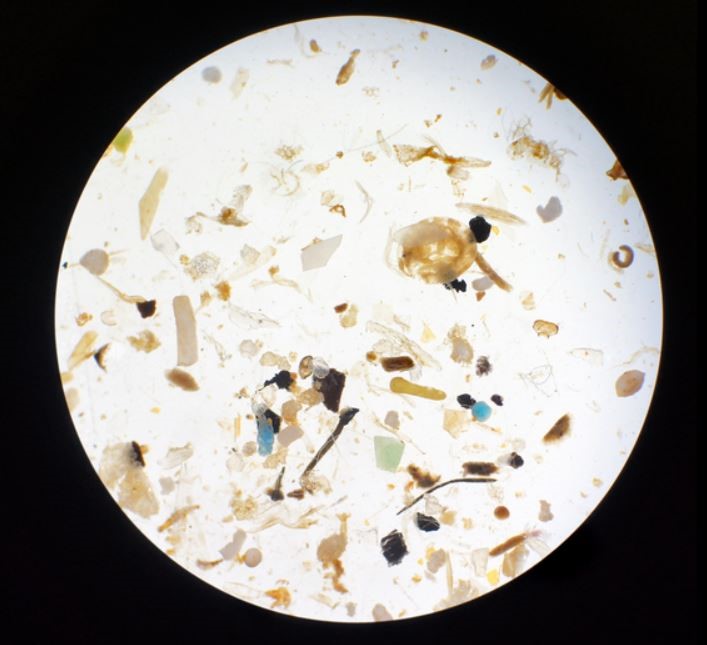 Microplastics are found throughout the earth from the highest mountains to the depths of oceans. Microplastics are generally defined as plastic particles less than 5 millimeters in length, but are more often much smaller and can only be seen through a microscope.
In June 2020, California, through the State Water Resources Control Board (State Board), adopted a more precise definition for microplastics in drinking water. The State Board defined microplastics in drinking water as human-made or human-altered solid materials greater than 1 nanometer and less than 5 millimeters.
Where do microplastics come from?
Microplastics are particles that break off when plastic containers are used, clothing is washed or worn, or when food packaging or plastic bottles are opened. They can also come from tires, cosmetics, flame retardants, filters, and some pharmaceuticals. When the plastic breaks off, the small particles can find their way into the air, water, soil, plants, animals, and humans.
What are the effects of microplastics on humans and the environment?
Studies are still evaluating the effects of microplastics on humans and the environment. The research does, however, suggest that the following steps might help reduce your exposure to microplastics.
Drink water from your tap: Plastic bottles are a primary contributor to plastic pollution, and multiple studies suggest bottled water may contain up to twice the microplastic levels of tap.
Don't heat food in plastic: This may cause leaching of plastics into what you eat.
Eat more fresh food: The American Academy of Pediatrics says the level of microplastics in fresh produce is less likely to expose you to particles.
Minimize household dust: Household dust can expose people to microplastics and other chemicals in the air.
What is being done to regulate microplastics?
California is a leader in developing testing methods and regulations on microplastics. In September 2022, the State Board approved two official methods for detecting microplastics in drinking water, Raman Spectroscopy and Infrared Spectroscopy, and adopted a handbook on how to complete that testing. They are now asking large water providers throughout the state to help them with undertaking several years of testing and reporting of microplastics in drinking water, including public disclosure of those results, to better understand the level of microplastics in drinking water. This is Phase 1 of the state's testing.
The State Board has previously stated that research so far has shown that the level of microplastics in groundwater is extremely low, if at all present, and that it needs more information on the levels in surface water.
Testing to begin in 2023
Irvine Ranch Water District was identified as one of 25 municipal water providers to participate in Phase 1 of the state's testing. That testing will begin in summer, 2023, on water at the Baker Water Treatment Plan. Testing will be conducted quarterly for up to two years, followed by a period of evaluation and further testing.
Results will be made available to drinking water customers via IRWD's annual Water Quality Report that is published in June of each year. IRWD will also make the District's microplastics testing results available on this webpage as data becomes available.
California is the first state in the nation, if not the world, to require testing of microplastics in drinking water.