Syphon Reservoir Improvement Project
Watch our Project Video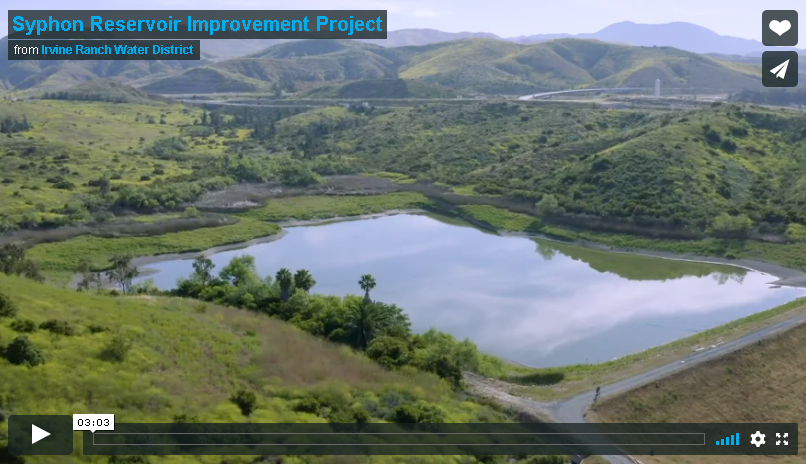 Syphon Reservoir Improvement Project from Irvine Ranch Water District on Vimeo.
Recycled water is a vital, drought-proof source of water that has been safely treated for reuse after going down the drain. While it is not used for drinking, it is an abundant, affordable and reliable part of IRWD's diverse water supply portfolio. It is used for watering shared community spaces, cooling office buildings, flushing toilets, mixing concrete, industrial uses and fighting regional wildfires. Recycled water helps us prepare responsibly for the future as demand for drinking water is growing, droughts are more common and recurring, and wildfires are becoming bigger and more frequent. That's why it is important that we increase our recycled water supply and ability to store it for times of high demand.
The Syphon Reservoir Improvement Project is an investment to expand the existing recycled water storage reservoir. The project will help to reduce our dependence on costly imported water, making us more self-sufficient by allowing us to swap out an expensive source of water for one that is less expensive and more reliable, ensuring we use the right water for the right purpose.
Download Project Information
CEQA Notice of Preparation Public Scoping Meeting Presentation August 21, 2019

Syphon Reservoir Improvement Project: Investing in Our Future
The Syphon Reservoir Improvement Project is an investment to increase the current Syphon Reservoir storage capacity from 578 to 5,000 acre-feet or 188.3 million to 1.6 billion gallons. By doing so, we can store more recycled water to meet seasonal and future needs. By making more recycled water available, we will reduce our dependence on costly imported water and make our community more self-sufficient.
Project Benefits
The Syphon Reservoir Improvement Project will help IRWD meet the community's need for increased recycled water storage. By increasing our ability to store more recycled water, the project:
Prepares us for the future by storing more drought-proof water
Enables IRWD to use nearly 100% of the recycled water it produces
Keeps parks, medians, athletic fields, public landscaping and golf courses green and beautiful
Provides water to fight wildfires throughout the region
Saves IRWD customers $85 million over 50 years and preserves low customer rates
Environmental Review Process and Timeline
The project is undergoing a thorough California Environmental Quality Act review process that includes opportunities for public input and stakeholder engagement. The environmental review process is expected to be completed by spring 2021. IRWD will develop the preliminary and final design between winter 2020 and fall 2023. Construction is expected to begin in late fall 2023 and is estimated to take 2-3 years to complete.
How the Recycled Water System Works

Meeting Community Water Needs
Recycled water is an abundant, affordable and reliable part of the Irvine Ranch Water District's (IRWD) diverse water supply portfolio. We have one of the most robust and technologically advanced recycled water systems in the nation, which helps us meet the water needs of our community, while responsibly preparing us for the future.
To learn more about how IRWD's innovative recycled water system keeps your home faucets flowing while also keeping the community green and beautiful, please watch the video below or visit our recycled water webpage here: irwd.com/services/recycled-water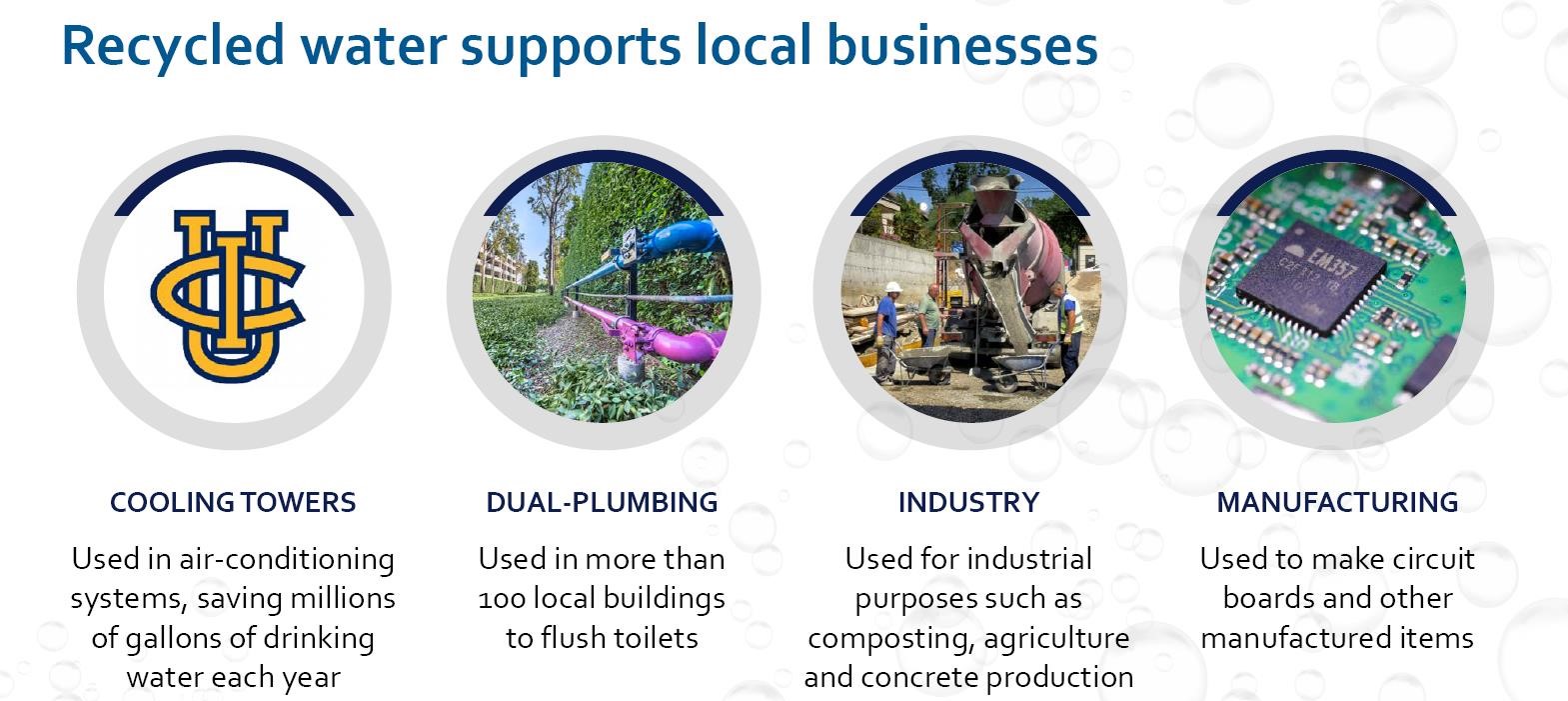 Why Lose it When We Can Use It?
Drinking water is limited, especially here in Southern California. So how does Irvine Ranch Water District keep our communities so green and beautiful without depleting the drinking water we depend on in our homes and businesses?
The answer is recycled water—an abundant, affordable and drought-proof source of water ideal for many uses. Just not for drinking. Every gallon of recycled water we use for these purposes saves a gallon of drinking water. And that adds up to 28 million gallons a day.








How Important Is Recycled Water?
Recycled water is a crucial reliable source in our diverse water supply and a forward-thinking solution for the future of our community. It's all about using the right water for the right purpose.
Fast Facts:
Recycled water makes up 26% of our entire water supply and is key to meeting the community's water needs.
60% of all recycled water is used for landscape irrigation, 30% goes towards business and industrial uses and 10% is used for agriculture.
85% of all common areas throughout the community are irrigated with recycled water.
How The Recycled Water System Works
We have one of the most robust and technologically advanced recycled water systems in the nation. Here's how the system works: Water goes down the drain inside a home, where it travels through sewers to the Michelson Water Recycling Plant or Los Alisos Water Recycling Plant. There it is converted into recycled water through an extensive treatment process before it leaves the plant via a 42- inch purple pipe and is routed for storage at four recycled water reservoirs. Once needed, the water is directed by IRWD through a 561-mile purple pipeline system to customers at 6,000 metered connections, where it is used for various purposes.

The Water Balancing Act
Managing our water supply is a balancing act. Recycled water is produced and used every day, but the community's need for it grows during the dry months of summer. In the wet winter months, when demand is low, our recycled water reservoirs fill up, and excess recycled water goes to waste. Without more room to store recycled water for times of high demand, we will have to use expensive imported water to meet our future needs.
Safety: Always Our Top Priority
Public safety is our top priority – nothing is more important to us. IRWD is an experienced reservoir operator with a strong track record in reservoir construction, maintenance, performance, safety and facilities construction. IRWD operates five reservoirs, including Syphon Reservoir. The reservoirs are inspected by the state and meet all requirements for safe use. Currently, we monitor all five dams daily and conduct monthly inspections.
As part of the Syphon Reservoir Improvement Project, IRWD will go above-and-beyond required safety standards. The project will modernize and upgrade the reservoir so that it continues to meet or exceed the latest federal and state safety standards. The proposed project will be peer reviewed through a rigorous process overseen by a technical advisory panel made up of respected reservoir experts.
Managing Recycled Water in Syphon Reservoir
No rivers or streams feed into Syphon Reservoir, which allows IRWD to directly control the flow of recycled water in and out of the reservoir. Recycled water is treated and fills the reservoir only via controlled pipes, IRWD then pumps the water from the reservoir through the dedicated purple pipe system so it can be used for irrigation, commercial and industrial purposes and to fight wildfires.
Current Syphon Reservoir Inundation Map 2019 (without proposed project)
Organizations
Asian Business Association Orange County
Asian Industry B2B
Asian Women Entrepreneurs
Black Chamber of Orange County
Chinese American Mutual Assistance Association
Diversity Business Network
Filipino American Chamber of Commerce of Orange County
Greater Irvine Chamber of Commerce
I Love Irvine
Nightingale Technology
OC Realtors
Orange County Business Council
Orange County Hispanic Chamber of Commerce
Shadetree Partnership
South Coast Chinese Cultural Association
Vietnamese American Chamber of Commerce
Individuals
A.G. Kawamura
Alice Lei
Diana Zuniga
Gloria Rull
Jeannie Luong
Jennifer S. Wang
Jerry Chang
Linda Nguyen
Robert (Bobby) McDonald
Tim Cheng
Tom Nguyen
Wendy Yoo
Zhihai Li

IRWD: Committed to Transparency and Community Engagement
IRWD has a longstanding and ongoing commitment to transparency. It welcomes neighbors and community members to share their questions and comments about the project. IRWD will keep the community informed about the project, public meetings and comment periods through a variety of communications including advertising, direct mail, open houses, website, e-newsletter, social media and a speakers' bureau.
To be included on our contact list, please click here. If you have questions or would like to have a project representative make a presentation to your group, please email info@irwd.com.