Sewer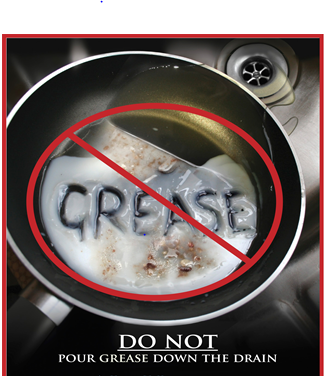 Clogged drains and sewer lines are usually the result of improper use and maintenance.
Putting fats, oils and grease down a sink can lead to sewer clogs.
So can flushing improper items such as wipes, dental floss, sanitary products, and other items.
Clogs of any kind can lead to wastewater backing up into your home or business, spilling out onto the streets, and even finding its way into storm drains and to the beaches. Cleanup can be expensive for homeowners, and especially expensive for businesses like restaurants, which can also be subject to fines and closures. (Commercial customers can click here to learn more about IRWD's FOG program.)
Help keep your drains and neighborhood sewer lines clear by following these simple guidelines:
Never put fats, oils or grease (FOG) down drains, garbage disposals, or toilets. Instead, place oils into a jar or can and throw it into the garbage can for collection. Click here for more information.

Do not put disposable rags or wipes down drains or toilets. Even if the product claims to be "flushable," it is not and causes clogs and damage to sewer pumps.

Do not plant trees or shrubs near sewer laterals because root intrusion can cause serious blockages and damage to the lines.

Perform periodic cleaning and inspections to your sewer laterals to ensure the lines are running free and there are no clogs or root intrusions.
IRWD crews are a good source of unbiased information and are always available to help our customers decide on a course of action. All you need to do is contact us if you have questions.
Sewer Savvy Business Recognition Program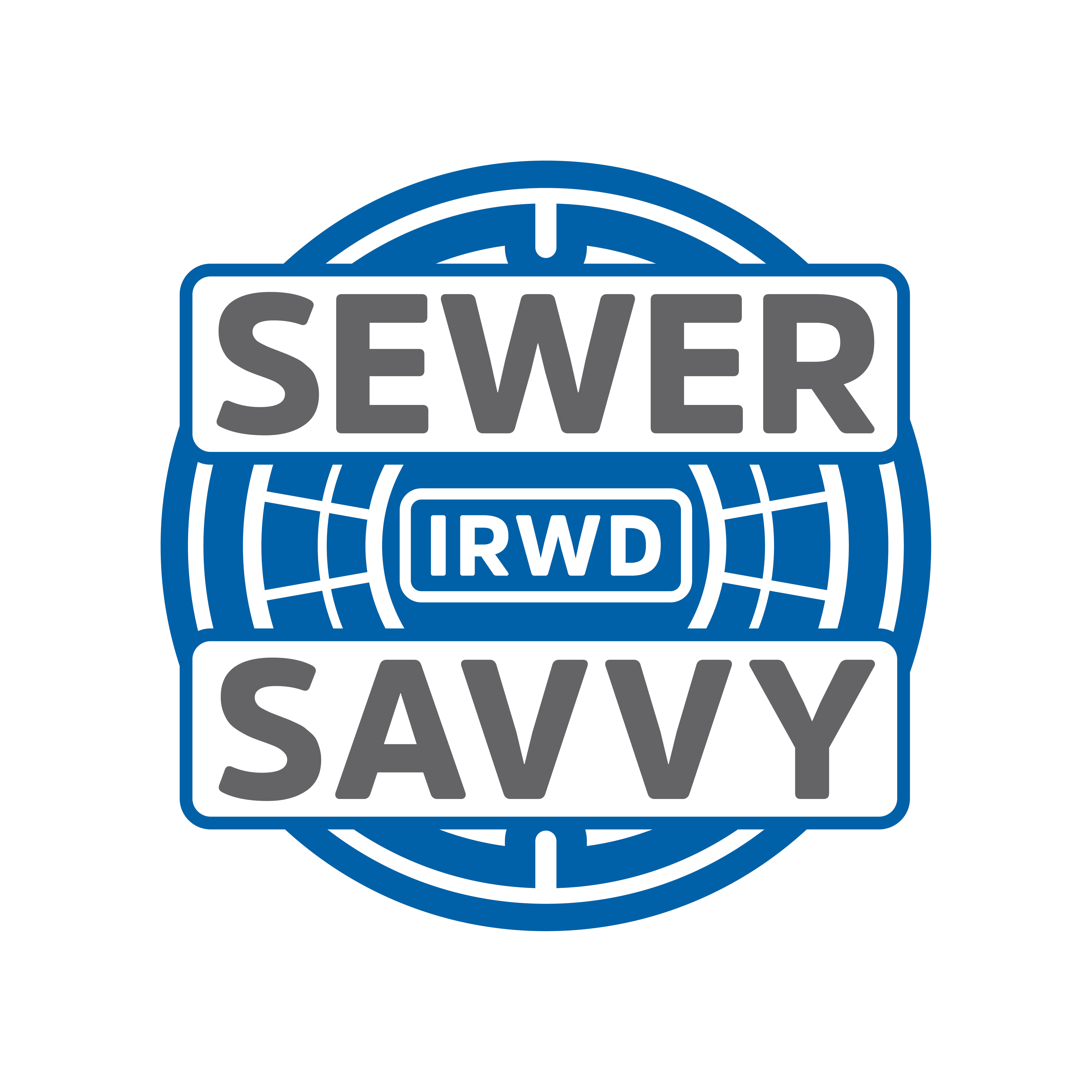 Local businesses and professionals can be recognized by Irvine Ranch Water District for demonstrating exceptional sewer maintenance practices by participating in the District's Sewer Savvy program.
The program is open to plumbers, property managers, restaurants and other Food Service Establishments, and other companies that demonstrate best management practices that keep drains, laterals and sewer lines trouble-free.
Click here for details about the program, or contact us for more information.
Sewage Treatment Master Plan Update
IRWD is developing a new master plan that will identify optimal locations and methods for conveying, treating, and distributing sewage and recycled water within the service area. This includes an evaluation of the Michelson Water Recycling Plant, located in Irvine and the Los Alisos Water Recycling Plant, located in Lake Forest. The Sewage Treatment Master Plan will:
Characterize sewage for constituents of concern;

Determine future sewage conveyance requirements to MWRP and LAWRP;

Identify future treatment processes and their associated capacities at MWRP and LAWRP;

Identify beneficial uses of sewage; and

Identify ways of managing the sewage collection and treatment systems in the most cost effective manner.
The Sewage Treatment Master Plan will utilize the District's recently updated sewage and recycled water supply and demand projections to determine the optimal locations and methods for conveying, treating, and distributing the District's sewage and recycled water.
A core component of the master plan includes the development of a long-term plan for the Los Alisos Water Recycling Plant relative to its ultimate treatment processes and capacity. The master plan will result in the identification of capital improvement projects necessary to implement the recommendations and a corresponding implementation program for those improvements.


Storm drains are a completely different system. Storm drains collect rain water and other urban runoff from the community. This water travels through street gutters to storm drains, which in our area channel the runoff to San Diego Creek and eventually to the ocean. Storm drains are not the responsibility of IRWD. Within city limits they are the responsibility of the city government; in unincorporated areas they are the responsibility of the County of Orange. It is important to remember that water from storm drains does not go through a treatment plant for cleaning. Any trash or pollutants thrown into the street or storm drains will eventually reach Newport Bay and the ocean. Citizens can do their part by not overwatering their landscaping, thereby reducing the amount of unnecessary runoff that reaches the ocean. And, of course, don't litter.


Sewer Laterals - Who's Responsible?
Most homeowners don't tend to think about sewers until there is a backup in their plumbing. Anyone who has ever had a sewer backup would agree it is an unpleasant problem that can be costly if ignored. If you find that your drains are moving slowly, that's an early indication that there might be the beginning of a blockage.

Often, the question arises – where does the responsibility of the customer begin and end and when does it become the responsibility of IRWD? The upper sewer lateral – the line leading from the residence to the edge of the property line – and the lower lateral, which connects into the sewer mainline, is the responsibility of the customer to maintain. In addition, customers are responsible for making any repairs to the upper lateral only. If repairs are needed on the lower lateral, that is the responsibility of IRWD.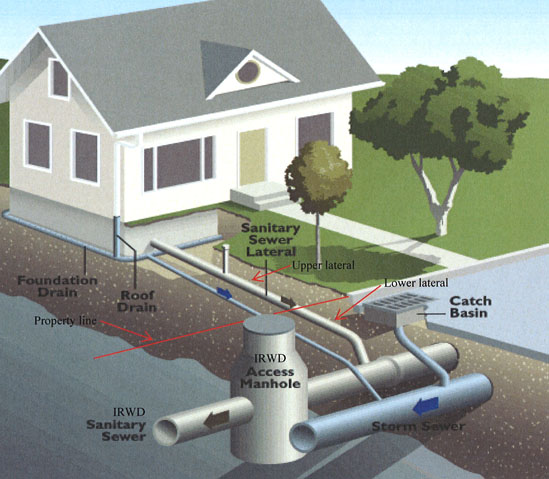 A typical sewer system is constructed of a network of pipes connecting to each building and transporting wastewater to IRWD's two wastewater recycling plants. Sewer clogs can lead to sewer spills. There are many ways to prevent such spills:
LANDSCAPING
Plant like a local
Get plant ideas, designs & California-friendly landscaping tips
More Info