Baker Water Treatment Plant
The Baker Water Treatment Plant is a 28.1 million gallon per day (mgd) drinking water treatment plant at the site of the former Baker Filtration Plant in Lake Forest. The plant was a joint regional project by five South Orange County water districts, supported by community and business organizations.
Increased Water Supply Reliability:
The plant provides increased water supply reliability to South Orange County by increasing local treatment capability from multiple water supply sources, including imported untreated water from the Metropolitan Water District of Southern California (MWD) through the Santiago Lateral and local surface water from Irvine Lake.
Protection in Emergencies:
The plant provides a reliable local drinking water supply during emergencies or extended facility shutdowns on the MWD delivery system. It will also increase operational flexibility by creating redundancy within the water conveyance system,
Improved Water Quality:
The plant uses advanced microfiltration treatment and ultraviolet disinfection technologies to produce water that meets standards stricter than current regulatory requirements, resulting in a consistent, high quality source of drinking water for South Orange County.
Sustainable and Efficient:
The plant was designed to minimize waste through on-site recycling and treatment of waste streams, resulting in a 99% recovery efficiency.
Complements the Community:
Consistent multi-agency involvement and collaboration throughout the plant's planning and design phases resulted in a project which is architecturally designed to blend into the surrounding neighborhood.
Project Ownership:
El Toro Water District (ETWD), Irvine Ranch Water District (IRWD), Moulton Niguel Water District (MNWD), Santa Margarita Water District (SMWD) and Trabuco Canyon Water District (TCWD) each own capacity rights in the Baker WaterTreatment Plant's 28.1 mgd production capacity. The plant produces enough water to serve 63,300 homes within South Orange County, and provides an additional source of reliable, high quality drinking water to the region.
Water Reliability Improvement: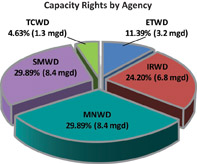 South Orange County receives the majority of its potable water from the Municipal Water District of Orange County via MWD's Diemer Filtration Plant and the Allen-McColloch Pipeline. For a number of years, water agencies in SouthOrange County have investigated alternatives for improving both water supply and water system reliability.
In 2001, IRWD consolidated with the former Los Alisos Water District which served most of the City of Lake Forest.
The original Baker Filtration Plant was one of the facilities IRWD took ownership of in the consolidation. In 2006, the project partners studied the feasibility of constructing a new regional water treatment plant at the site of the former Baker Filtration Plant.
After evaluating all critical issues including source water quality, treatment alternatives, permitting requirements, the site, and project economics, the project partners determined that the Baker Water Treatment Plant was an excellent option for improving South Orange County's water reliability and for developing alternative local water supplies for the region.
The project was awarded to PCL in December 2013, and broke ground in February 2014 with an overall project cost of $103.6 million. It went online in early 2017 and is managed and run by IRWD.
Documents:
Baker Water Treatment Plant Fact Sheet
Other Projects in the Area:

Trabuco Canyon Water District project (Serrano Creek area)
Baker Photos:
Save
Save
LANDSCAPING
Plant like a local
Get plant ideas, designs & California-friendly landscaping tips
More Info