San Joaquin Reservoir Filtration Facility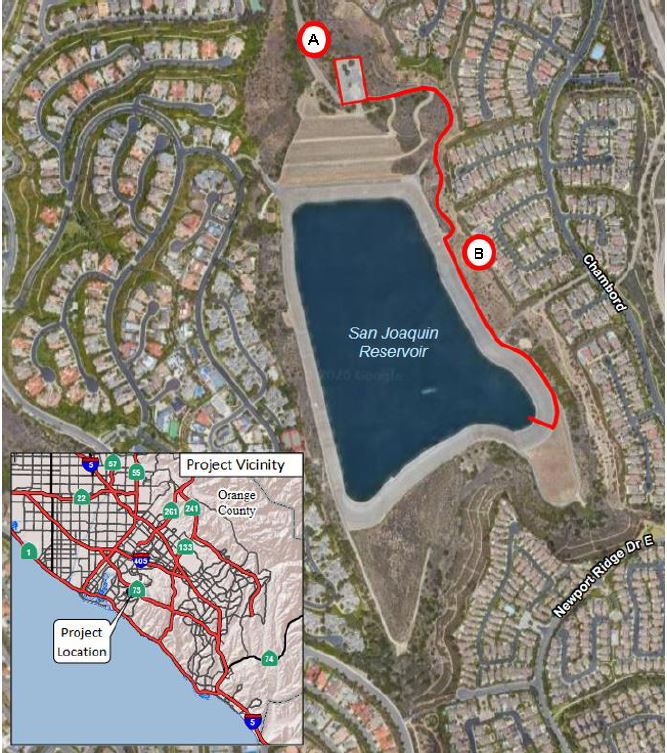 Irvine Ranch Water District contractors will begin work in late January 2023 on a project to improve water filtration at the San Joaquin Reservoir, which provides recycled water for landscape irrigation and other uses in Newport Coast and parts of Irvine.
The project calls for the construction of a new building, and the installation of a new filtration system inside the building. A new pipeline will be installed along the reservoir access road from the new building to the south side of the reservoir. Other work includes miscellaneous improvements within an existing building, and improvements to the facility electrical system.
To ensure access to the reservoir site for larger vehicles, temporary parking restrictions may be periodically set up along Ford Road. Motorists are advised to comply with temporary no parking signs posted during these periods.
What: Construction of a new water filtration facility (Area A) and a new pipeline (Area B)
When: January 2023 to December 2024
Construction hours: 7 a.m. to 3:30 p.m., Monday through Friday
Information: Please click on the blue bar below for construction updates. Questions should be directed to info@IRWD.com, or you can call the Communications Department during normal business hours at 949-453-5500. After-hours calls should be directed to IRWD's Customer Service line at 949-453-5300.
Week of March 20: Work will continue to set up the site, weather permitting.
Week of March 6: The project contractor is expected to begin mobilization this week, bringing in equipment, setting up and installing stormwater protection. This work will continue into next week, including the identification of utility lines.