Fats, Oils & Grease Program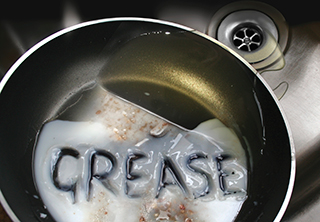 IRWD along with many other cities and water agencies in Orange County, have made use of a longstanding public education campaign to eliminate improper disposal of fats, oils and grease (FOG). The campaign's tagline, "The drain is not a dump!" is meant to remind people that putting fats, oils or grease down a sink can be unhealthy and costly.
Putting these greasy materials down a sink can lead to sewer clogs, and clogs can lead to wastewater backing up into your home or business, spilling out onto the streets, and even finding its way into storm drains and to the beaches. Cleanup can be expensive for homeowners, and especially expensive for businesses like restaurants, which can also be subject to fines and closures.
How to Keep Your Drains Clean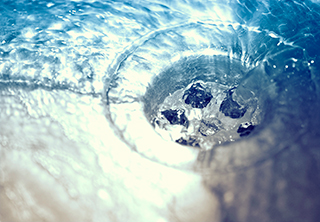 Keeping your drains healthy is easy to do. After cooking, be sure to put fats, oils and greases in a container that can be thrown away.
Residents are also asked to mix fats, oils and grease with absorbent waste such as paper towels, kitty litter, coffee grounds, or shredded newspaper before discarding in the trash.

While IRWD maintains the community-wide sewer system, the sewer pipes within your own home and on your property out to the sewer main in the street are the responsibility of the property owner, which will require either do-it-yourself maintenance or assistance from a plumber to clear the blockage.

However, before attempting to unblock clogged sewer lines, IRWD asks that property owners call us at 949-453-5300 so that we can be aware of the location where this work is taking place. Often times, grease or a root ball is cleared from a home's pipe system, only to move out into the street and cause a clog in IRWD's sewer system. Such a clog can result in a sewage spill from a manhole. So help IRWD protect the environment by notifying us before you clear a clogged sewer line.
Commercial Customers: How You Can Help


IRWD maintains the public sewer system serving your business and is required under state law to implement a comprehensive fats, oils and grease (FOG) control program to prevent the discharge of FOG into the sewer system. As a commercial customer of IRWD, you can help protect the environment by preventing sewage spills. Never pour fats, oils or grease down a sink or other drain.
This multilingual public education program is in response to the Santa Ana Regional Water Quality Control Board's enactment of Order No. R8-2002-0014, which calls for a Sewer System Management Plan. A key element of the plan is a public education program designed to inform the general public and food service establishments such as restaurants about proper disposal of fats, oils and grease. Education materials are available in English, Mandarin Chinese, Korean, Spanish and Vietnamese.
Local businesses and professionals can be recognized by Irvine Ranch Water District for demonstrating exceptional sewer maintenance practices by participating in the District's Sewer Savvy program.
The program is open to plumbers, property managers, restaurants and other Food Service Establishments, and other companies that demonstrate best management practices that keep drains, laterals and sewer lines trouble-free.
Click here for details about the program, or contact us for more information.
Explore these links to learn more about FOG tips, tools and requirements for our commercial customers, as well as your responsibilities regarding FOG.
Important Links for Commercial Customers:

Commercial Contact:
949-453-5865
fog@irwd.com