Water Quality Information
At IRWD, we come to work every day on a mission to ensure that your drinking water is clean, tasty and high-quality. Curious how we do it? In this 3-minute video, you'll tag along with real IRWD scientists and water system operators as water makes its way to your drinking glass, sippy cup or pasta pot. Cheers.
Fact sheet on safety of state public drinking water: Reminder about California's drinking water systems (State-required treatment process removes viruses, including COVID-19)
Download annual Water Quality Report here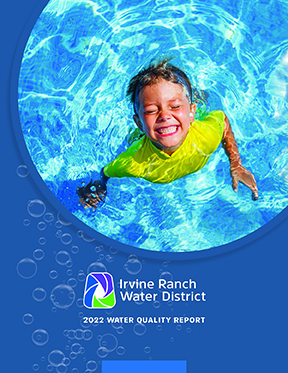 Drink up! IRWD water meets all of the exacting standards set by the state and federal governments. Learn more in the 2022 Water Quality Report, available here. To request that a paper copy be mailed to you, email info@IRWD.com with the subject line "Water Quality Report" or call 949-453-5500.
At IRWD, everything we do is aimed at providing our customers with the highest-quality water possible. Our Water Quality staff continuously monitors the supply, conducting more than a quarter of a million laboratory tests each year on water taken from more than 100 routine sample points. We are proud to have a state-of-the-art and state-certified Water Quality Laboratory. IRWD's commitment to innovation makes it one of the best-equipped water labs in Southern California.
If you have questions or concerns regarding water quality issues — such as taste, odor or appearance — please review the frequently asked questions below or contact our Customer Service specialists at 949-453-5300 or customerservice@IRWD.com.
Water Quality Regulations - Learn More

We know regulations are complicated. Click here to read more detail on state and federal regulations and what they mean.
Click the following link to read IRWD's Draft Report of Water Quality Relative to Public Health Goals, which will be presented at a public hearing during the regular meeting of the IRWD Board of Directors on Monday, July 25, 2022.
IRWD Drinking Water Does Not Contain PFAS
IRWD's drinking water is safe and does not contain PFAS (PFOS/PFOA). Click here to learn more.
Frequently Asked Questions
Questions about Portola High School and IRWD Recycled Water?
+
Why does my water sometimes look cloudy?
+
Why does my water taste or smell different during different times of the year?
+
Do I need bottled or filtered water for safety?
+
What type of water softener should I use?
+
Does IRWD add fluoride to the water?
+
How much sodium is in the water?
+
Why does my water smell like rotten eggs?
+
Is water treated with chloramines hazardous to some pets?
+
How do I flush my water heater?
+
How do I store water for an emergency?
+
Lead and Copper Rule and IRWD Test Results
+
Rightscape
Right plan.
Right plants.
For plant ideas, designs & drought tolerant landscape information
More Info