IRWD Duck Club
The IRWD historic Duck Club was originally home to two duck hunting clubs, which were still in operation when IRWD built the Michelson Water Recycling Plant in 1966. Both the Ricker-McHone and Old San Joaquin Duck clubs operated under permits from the Department of Fish and Game and the City of Irvine until 1988 when the city chose not to renew the permit in light of the rapidly developing residential community in the area.
The Duck Club was originally located on the former Tustin Marine Base (AKA: Lighter than Air Base) and moved to its current location in the 1940s when the Marine base was built. IRWD took over ownership of the Duck Club in 1992.
While the Audubon House served as the old bunk house for the two hunting clubs, the Duck Club was used as a gathering place for the hunters. They would build a roaring fire in the fireplace and share stories over dinner. The next day they would head out early in the morning to hunt.
Over the years, IRWD added a new front porch on the main Duck Club house with a double door entrance and an enclosed porch off the living room facing south. In 2005, the building was again expanded to its present configuration. IRWD provides the Duck Club as a Meeting Room free of charge to non-profit organizations within our service area.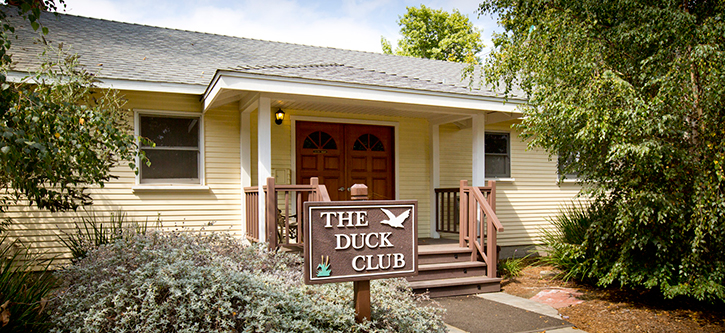 Rightscape
Right plan.
Right plants.
For plant ideas, designs & drought tolerant landscape information
More Info