Irvine Lake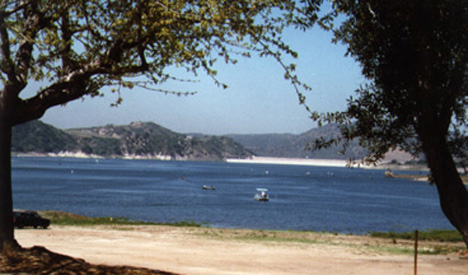 Water Storage at Irvine Lake
Since it was originally constructed in 1933, the primary purpose of Irvine Lake (Santiago Creek Reservoir) is to store water for the benefit of the surrounding communities – initially to provide irrigation water for local farms, and more recently to satisfy water demands primarily for urban needs. Irvine Ranch Water District (IRWD) utilizes water from Irvine Lake for two purposes: 1) as a source of water for non-drinking purposes, such as irrigation for avocado orchards, and 2) as a source of water for the Baker Water Treatment Plant which creates drinking water for an estimated 85,000 homes in Orange County. Serrano Water District (SWD), a co-owner of Irvine Lake with IRWD, also uses water from Irvine Lake to provide treated drinking water to its customers in the City of Villa Park and some parts of the City of Orange.
Both IRWD and SWD balance the benefits of storing water in Irvine Lake to ensure customers have a reliable supply of water with minimizing evaporation of water from the Lake. When the water level in Irvine Lake is high, the rate of evaporation increases dramatically with the increased surface area of water. One other key consideration for managing water levels in the Lake is preserving the ability to capture rainwater from the surrounding hills that will flow into Irvine Lake. Capturing this fresh water in Irvine Lake at no cost to both agencies can help reduce the cost of providing drinking water to customers.
Fishing at Irvine Lake
While Irvine Lake remains primarily a water resource facility, limited shoreline fishing is back, resuming Aug. 17, 2019. For details on fishing, please contact the County of Orange (OC Parks).
At IRWD, we support recreation in Orange County and take pride in offering opportunities for our customers to explore the outdoors and learn about their environment. However IRWD has no ownership of Irvine Lake recreation, and operates the lake first and foremost as a water storage reservoir. Irvine Lake recreation is the responsibility of the owners of the "Irvine Lake Recreation Rights." Those rights are shared between the following entities:
The Irvine Company/County of Orange: 75%
Serrano Water District: 25%
Fishing and boating had been allowed at Irvine Lake in the past, but public access was closed for three years starting in July 2016. The return of shoreline fishing in 2019 has been made possible by an agreement executed by the County, Serrano Water District, and IRWD. Click here to see the agreement.
Rightscape
Right plan.
Right plants.
For plant ideas, designs & drought tolerant landscape information
More Info