Turtle Ridge Pipeline Protection Project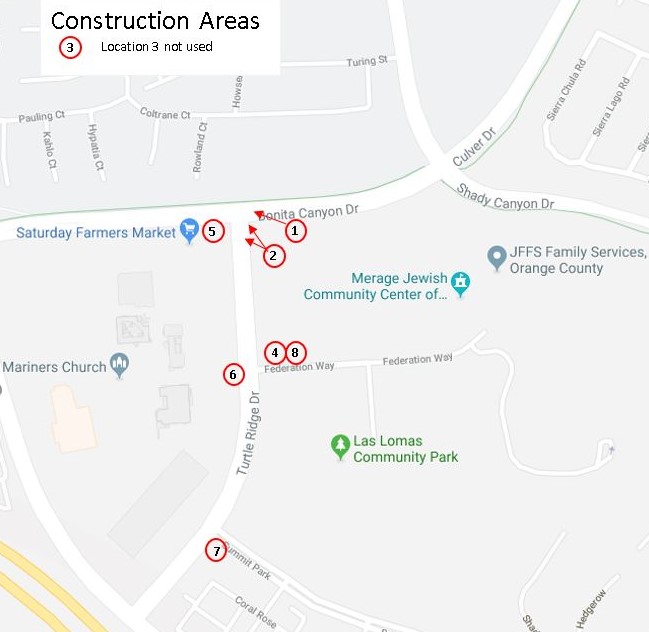 Irvine Ranch Water District contractors will be installling a complete cathodic protection system for domestic and recycled water pipelines along Turtle Ridge Drive, Federation Way and Summit Park.
Lane closures: Periodic lane closures will cause traffic delays. Sidewalks may be closed, and bicyclists and motorists will need to share the road in some areas.
Questions: Contact the IRWD Public Affairs Department during normal business hours (8 a.m. to 5 p.m.), at 949-453-5500 or at info@irwd.com. After-hours questions should be directed to IRWD's customer service line at 949-453-5300.
Upcoming timeline (dates are subject to change):
• 10/17-18: (Areas 1,2,4,5,7) Dewatering pipes, S/B Turtle Ridge closed, water shutoffs.
• 10/19-23: (Area 1,4,5,7) Install insulator test stations.
• 10/26-30: (Areas 6) Other equipment installations.
• 11/2-20: (Areas 1,2,8) Install electrical equipment and conduit.
• 11/11-13: (All areas) Concrete and asphalt repairs.
• 11/16-17: (All areas) Slurry seal.
• 11/23-12/7: (All areas) Lane striping (two applications)
Click on the blue bar below for weekly updates on the project.
Project Updates

+
Week of November 2, 2020:
Most underground work has been completed. Slurry seal was installed on Federation Way, Summit Park and Turtle Ridge Drive this week, and paving is expected to be fully completed next week.
Week of September 28, 2020:
Drill work and the anode installation on Federation Way were completed this week. The extensive road work and recycled water shutoffs planned for this weekend have been rescheduled to mid-October.
Week of September 21, 2020:
Construction was delayed last weekend in order to obtain equipment necessary for the project. As a result, drill work on Federation Way is now scheduled to begin on Monday, September 28. Last weekend's work and water shutoffs will be rescheduled to October.
Week of September 14, 2020:
Construction is scheduled to begin this week, with potholing and preparation occurring at all construction areas. Drill work will take place at the northeast corner of Federation Way and Turtle Ridge Drive from September 15-21, requiring the closure of the sidewalk and the westbound lane on Federation Way. All southbound lanes of Turtle Ridge Drive will be closed between Bonita Canyon Road and Federation Way as crews dewater pipelines for the project. This work will begin on Saturday, September 19 and may extend into Sunday, September 20. Domestic and recycled water service to the area will be shut off during this phase of construction.