Drinking Water Testing at Schools
IRWD Offers Free Testing for Lead At School Sites
The California State Water Resources Control Board Division of Drinking Water is encouraging K-12 schools statewide to have their on-site drinking water tested to ensure that drinking water is safe from lead. As part of this effort, the California State Board of Education will be reaching out to schools statewide with available resources and requirements.
To assist, the Irvine Ranch Water District is available to test the drinking water at all K-12 school sites within our service area. The test is free and will cover the costs of collecting samples, analysis and reporting the results to the State of California and the school.
IRWD Drinking Water is Safe and Tested Throughout the Year
IRWD is serious about ensuring the safety of the drinking water we deliver to your school site. Our water quality staff continuously monitors the IRWD drinking water supply, conducting over a quarter of a million laboratory tests each year. Water samples are tested at the state-of-the-art IRWD Water Quality Laboratory that is certified by the State of California. Results of these tests, published in the Annual Water Quality report show that IRWD drinking water meets or exceeds all quality standards set by both the state and federal government for lead.
Why Are School Sites Being Tested for Lead in their Drinking Water?
Unlike other areas of the country, California's drinking water is generally at low risk for lead contamination, primarily due to the fact that lead in drinking water service pipes is not commonly used in California water district distribution lines. In fact, IRWD has no record of having any lead service lines within its water distribution system. However, this may not be true for on-site water pipes (non-IRWD pipes) at older school locations whose pipes were joined with lead solder before it was banned by the Federal Safe Drinking Water Act Amendments in 1986.
The new drinking water lead sampling tests will be conducted on the actual school site after it has left the IRWD distribution system (blue pipes on graphic below) and has passed through the meter and into the on-site school pipes (non-IRWD beige pipes in graphic below). Areas to be tested will include regularly-used drinking fountains, cafeteria/food preparation areas and reusable water bottle filling stations.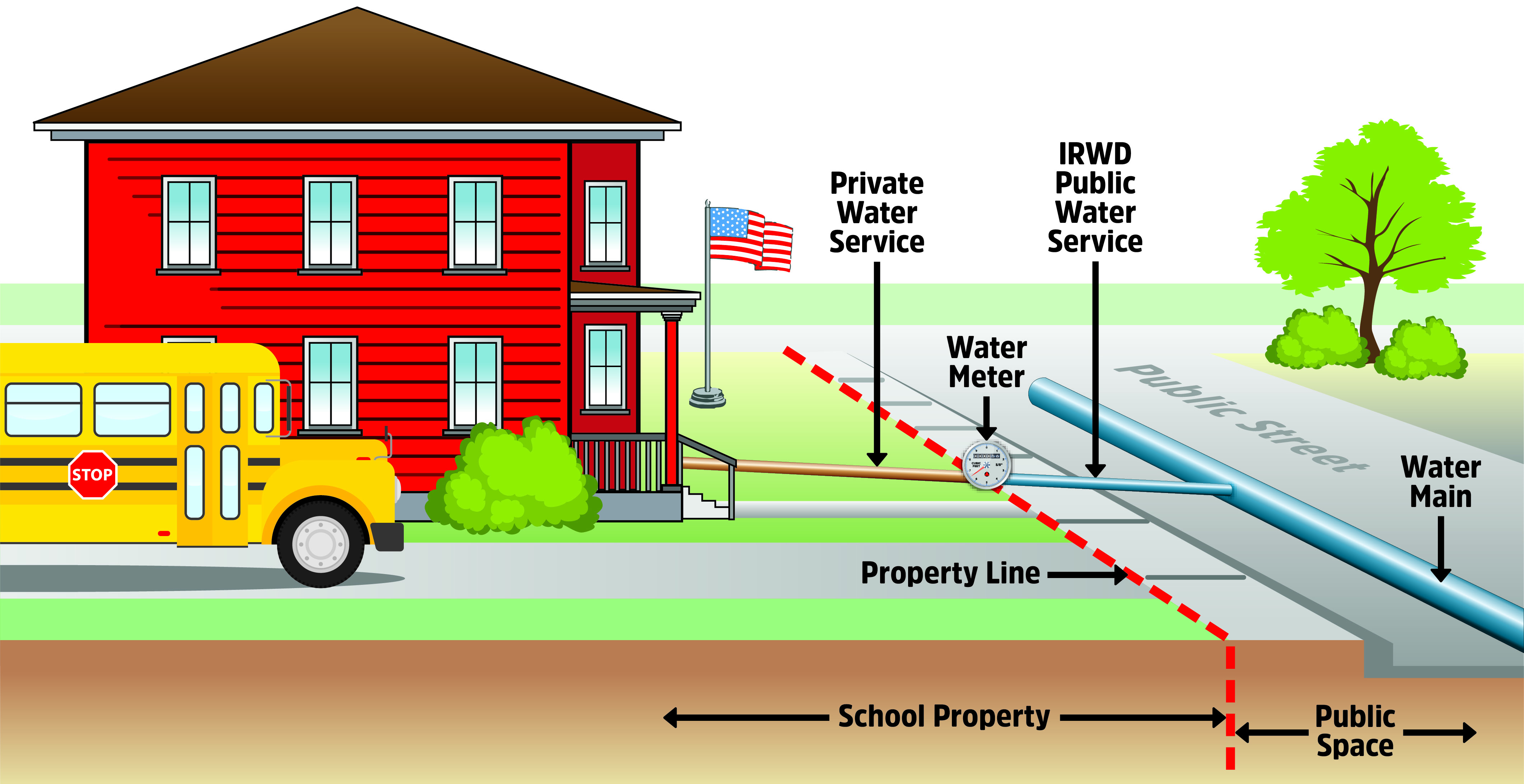 IRWD is here to help. The first step will be for the school district to contact us in writing to schedule an appointment to develop a sampling plan for District K - 12 school sites within the IRWD service area. Once a sampling plan is established, IRWD will schedule an appointment on-site at each school with a school representative to coordinate the details of this plan and to conduct the on-site drinking water sampling. The appointment on the school site will occur as soon as possible within 60 days of a written request to sample a specific school site. Once finalized, test results will be sent to the State Division of Drinking Water and will be posted on their website.
Still Have Questions?
More information on the new California school lead testing program, which is being administered by the California Department of Drinking Water, can be found here
If public K-12 schools within the IRWD service area have questions, please contact your school district office. Private schools with questions should contact IRWD at 949-453-5501 or info@irwd.com
For non-school related locations, please see this list of accredited local labs to arrange your own testing.
Parents with questions regarding this testing program should contact your school district or school (in the case of private schools) directly.
If you have health questions related to lead in water, please contact the Orange County Department of Health at 714-567-6220 and the following website pages:
Download This Information as a PDF
Rightscape
Right plan.
Right plants.
For plant ideas, designs & drought tolerant landscape information
More Info