Published: Jan 04, 2022 | 16:10 PM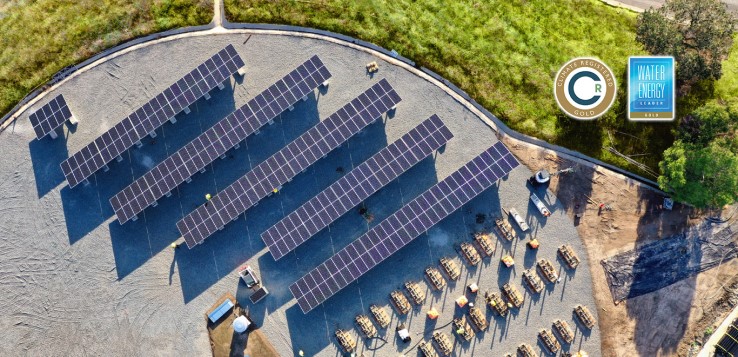 The Climate Registry Honors IRWD With 'Gold' Status
Irvine Ranch Water District has been distinguished with a gold-level status from The Climate Registry for demonstrating exceptional leadership in meeting rigorous voluntary greenhouse gas reporting criteria.
The recognition was bestowed after nine years of verified greenhouse gas inventories reported through 2019. IRWD's 2020 greenhouse gas inventory is being processed for approval and will soon qualify the District for 10 years of verified reporting.
In addition, IRWD received Water-Energy Leader Gold status for its participation in the organization's Water-Energy Nexus Registry, a consortium of agencies that communicate the importance of tracking and reducing carbon emissions connected to California's water systems.
"These are especially meaningful honors for IRWD, because they underscore so many of our values as a District," said General Manager Paul Cook. "This includes environmental stewardship, transparency, accountability, and collaboration – all of which are essential to maximizing renewable resources and minimizing our impact on the environment."
The Climate Registry oversees North America's largest voluntary greenhouse gas registry, empowering organizations and public agencies to act on climate change by reducing their carbon emissions.
"Organizations that become Climate Registered are the leaders in a growing movement to address climate change by managing and reducing emissions at the subnational level," said Amy Holm, executive director of The Climate Registry. "We have just over a decade to take action that will ensure we avoid the worst effects of climate change. This kind of leadership is needed now more than ever."
IRWD's history of sustainability began in the 1960s, when the District pioneered the reuse of an important resource: water. Today, recycled water makes up 28% of all water use in the District.
IRWD also operates several facilities to help meet the goals of its Energy and Greenhouse Gas Master Plan, which is being updated this year:
Biosolids and Energy Recovery Facility: Completed in 2021, this plant closes the loop on the recycled water process. Organic solids left over from the water recycling process are converted into a soil amendment and fuel. Biogas produced from the biosolids process generates energy to power the plant. Heat from the turbines and sludge dryer boosts efficiency.
Renewable Energy: In addition to the biogas used at the biosolids plant, IRWD uses solar power to help meet the District's energy needs. This includes:
A 1-MW array of 2,360 solar modules at the Baker Water Treatment Plant.
A 100-kW solar power array at the District's Sand Canyon Avenue headquarters, which provides 20% of the building's energy needs.
A 250-kW system at the District's Zone 3 reservoir.
Energy Storage Project: IRWD boasts one of the nation's largest networks of high-efficiency lithium batteries that store energy and provide on-site power to District operations. The batteries provide power stored during off-peak hours for operations. That energy can also be used by Southern California as a Demand Response resource to provide resilience to the energy grid during periods of high usage – reducing the need for additional power plants to meet regional energy demands.