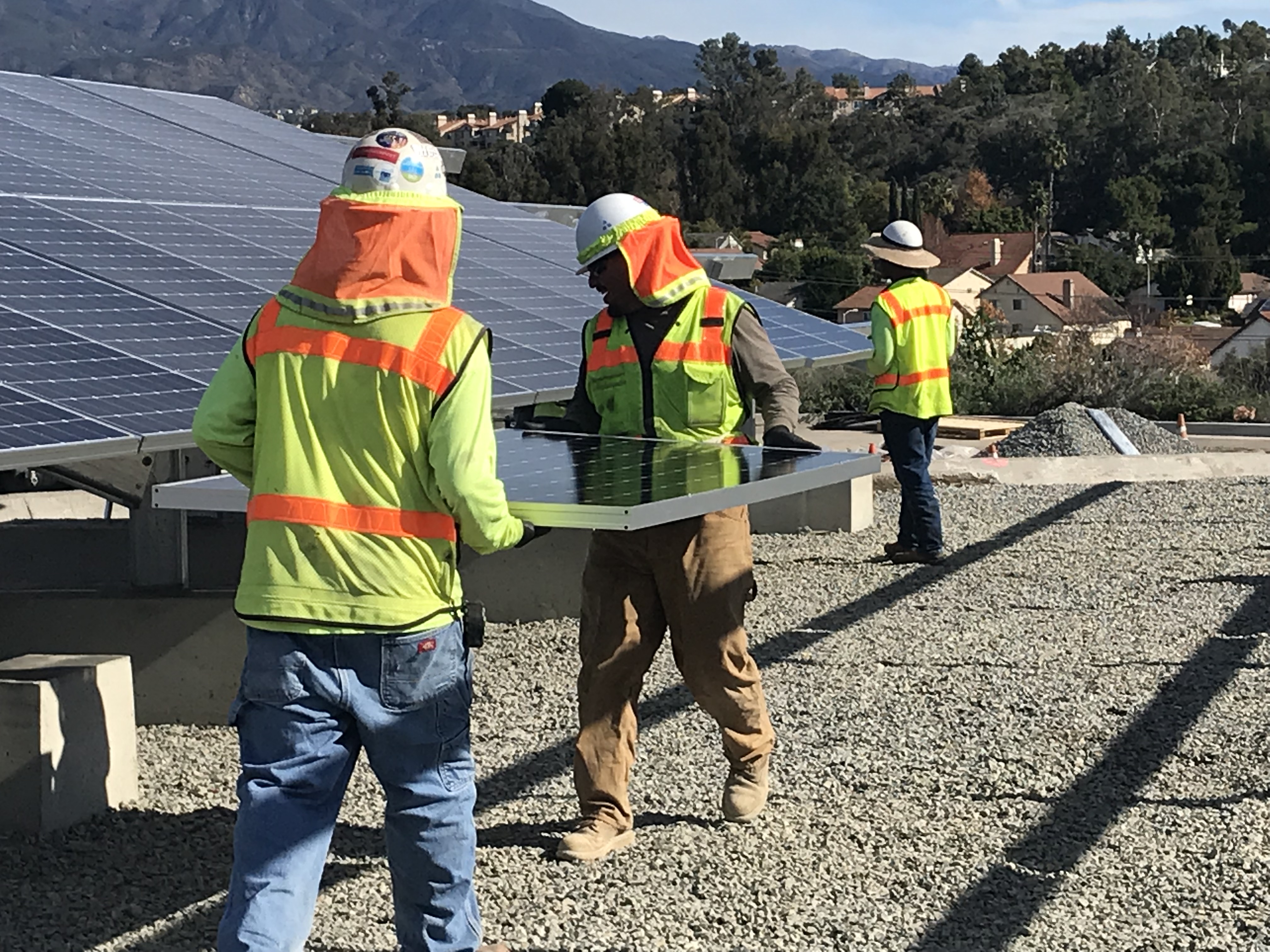 Baker Solar Project Supports IRWD's Sustainability Plan
Water and energy are fundamentally linked: Energy is needed to pump, treat and distribute water, and water is used to generate many forms of energy.
In an age when both resources are increasingly scarce, Irvine Ranch Water District is finding ways to supplement the energy needed for its operations.
As a part of that vision, the District has installed 2,360 solar power modules on top of two underground water storage reservoirs at the Baker Water Treatment Plant in Lake Forest.
These panels will generate about 1 MW of power – enough to serve about 50% of the plant's energy needs.
The Baker solar project is an important part of IRWD's Energy and Greenhouse Master Plan and it supports the District's goals to reduce energy use and incorporate sustainability in our approach to operations.
IRWD has several projects completed or nearing completion to help meet this need through renewable energy and energy storage.
Baker Solar Project:
2,360 solar modules generating 1 MW of power.
Installed with a net-zero loading condition to retain structural capacity of the reservoirs.
Connects to a 1.25 MW battery energy storage system on site – part of the District's broader Energy Storage System, which stores energy for use during peak hours to reduce the cost of purchased electricity.
Installed at no cost to the District under a Power Purchase Agreement in which IRWD buys back the power at a fixed rate.
Expected to go online in July.
Energy Storage Project:
A 7MW/34MWh network of high-efficiency lithium batteries that store energy and provide on-site power to our operations at six locations districtwide.
When launched in 2018, it was the largest installation of its kind in the nation.
A battery can absorb whatever power is available, so it can integrate well with renewable sources of energy.
Energy is stored in the batteries when rates are low and is used during peak demand when electricity costs are high, saving money.
The stored energy is also made available to Southern California Edison as a Demand Response resource to help provide energy resilience to the grid during periods of high usage.
Battery arrays like ours offer a tantalizing long-term application, reducing the number of power plants needed to meet peak electricity demand.
Renewable Energy:
Renewable energy is an important part of our Energy and Greenhouse Master Plan.
The District uses solar power to supplement its energy needs. This includes the 1.1 MW array at the Baker Water Treatment Plant, along with:
A 100 kW solar power array at the District's Sand Canyon Avenue headquarters, which provides 20% of the building's energy needs.
A 250kW system at the District's Zone 3 reservoir.
These installations, and future renewable projects to come, will be used to support a more sustainable energy program made possible by the energy storage project.
Biosolids & Energy Recovery Facility:
This project makes efficient and sustainable use of biosolids resulting from the treatment of sewage.
Organic solids left over from the process are converted into pellets suitable for use as fertilizer or fuel.
Biogas produced from the digestion process will be harnessed, cleaned and used as fuel for turbines that generate energy to support operations at the plant.
Heat from the turbines and sludge dryer will help heat the sludge in the digesters for greater efficiency.
Makes good use of all byproducts from the recycled water process.
Read more about IRWD's sustainability programs and its Energy and Greenhouse Gas Master Plan.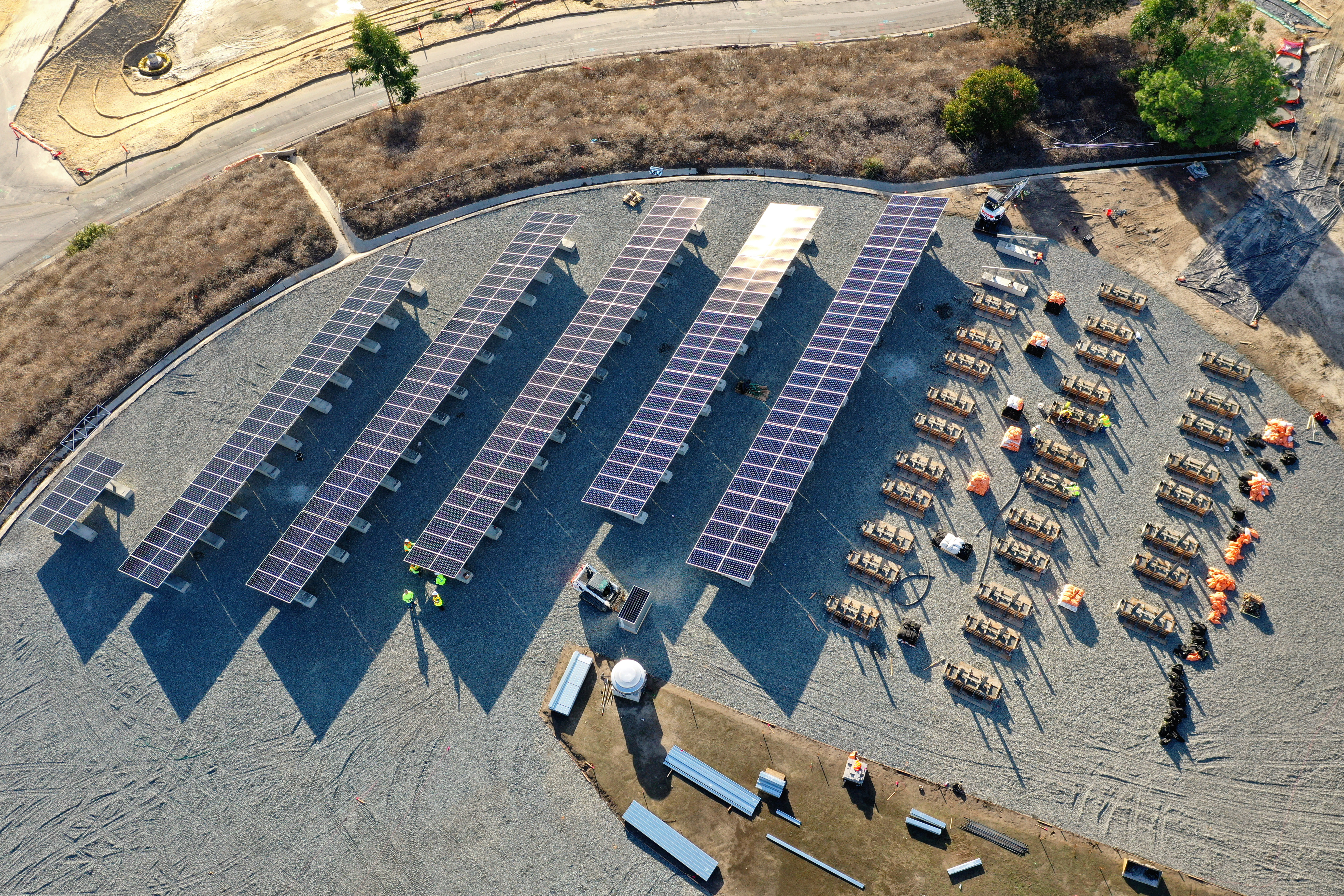 An aerial view of some of the panels during construction.