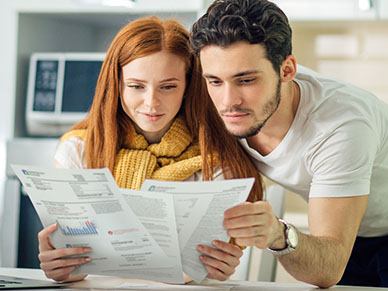 IRWD rate structure helps you save water and money
Are you looking for ways to save water to help with California's statewide drought?
Start by looking at your water bill.
IRWD uses a budget-based rate structure — which provides enough water for your indoor and outdoor needs, gives you control to save money, and ensures revenue stability for the water district.
We want you to know that your water supply here is in good shape, and IRWD is well-positioned to weather drought conditions like these for several years. But using water wisely has always been a goal at IRWD. Since the 1990s, we have been increasingly focused on programs to help our customers do just that — which is why average customer water use has been cut nearly in half since 1990.
Today, IRWD's Water Efficiency team includes people specializing in drought-tolerant landscaping, leak detection, residential and business water use audits, educational workshops, and rebates. And our website offers you tools to help with all that.
Our budget-based rate structure — designed to provide customers with a significant economic incentive to use reasonable amounts of water — is an important tool in that toolbox.
The structure includes variable charges based on the amount of water each customer uses. To encourage wise water use, each household is assigned a monthly water-usage budget. Customers who stay within their budget are rewarded with low water bills. Customers who exceed their budget buy water in two steeply ascending upper tiers, resulting in higher water bills.
Simply put: Use more water and your bill goes up. Use less and it goes down.
You can track your progress on the "Monthly Water Budget vs. Usage" chart that appears on your bill each month.
To ensure revenue stability, IRWD also assesses monthly fixed charges based on the size of the customer's water meter. Those fixed charges provide adequate funding for all IRWD operating costs other than the water itself — such as operating and maintaining IRWD's water distribution infrastructure, pipes, treatment plants, and sewers.
Therefore, IRWD maintains a stable and adequate operating budget — regardless of the amount of water sold.
Learn more