Help California save water
No watering restrictions here, but IRWD can help you be even more efficient during the drought
This is the driest year to date in California, based on records going back 128 years. With a hot summer ahead, the governor has urged everyone to use less water – and some communities face restrictions on watering.
At Irvine Ranch Water District, we urge you to do your part. But we want you to know that your water supply here is in good shape. As always, we encourage you to save water and money by staying within your monthly water budget, but IRWD customers are NOT subject to restrictions on watering their yards. (Check out our suggested irrigation schedule to make sure you're not wasting water.)
And remember, most public areas in the IRWD service area will remain green, because they are irrigated with drought-proof recycled water.
Water reliability is precariously uncertain in other regions of the state, and we should all pitch in to help. Look below for tips, or visit RightScape.com for more information.
START WITH YOUR LANDSCAPE:
Our yards can be the biggest source of water waste in Southern California. Click on the links below for ideas on simple but significant ways you can save water.
| | | | |
| --- | --- | --- | --- |
| | Landscape: | | Design: |
| | Irrigation: | | Planting tips: |
DON'T WASTE A GOOD THING:
Simple changes in habit can lead to substantial wa
ter savings.
Do's...

√ Use a weather-based timer for irrigation

√ Water only 2x a week in summer

√ Sweep your walkways & driveway

√ Adjust sprinklers to avoid overspray

√ Turn off water while brushing teeth

√ Check for indoor & outdoor leaks

√ Register for our WaterInsight Program

Don'ts...

X Do not overwater your landscape*


X Do not wash off hardscapes with the hose*

X Do not use a hose without a shutoff nozzle*

X Do not run sprinklers when it's raining*

X Do not ignore signs of a potential leak

X Do not let water run while washing dishes

*Restrictions that are now mandated in California
GET CUSTOMIZED WATER SAVINGS SPECIFIC TO YOUR HOME
Take the guesswork out of saving water with the IRWD WaterInsight Program. Register for free at IRWD.waterinsight.com and receive water savings recommendations specific to your household. Benefits include:
See how your water use compares to households like yours
Discover where and when you're using the most water
Be alerted to potentially costly leaks
Find related rebates available to you
Get clear steps to complete a water-saving action
Help claim your spot among the most water efficient homes in the IRWD service area! Sign up at IRWD.waterinsight.com today.
YOUR DROUGHT QUESTIONS ANSWERED
HOW MUCH CAN YOU SAVE?
Check out the graphic below to get an idea of your potential savings -- and the potential for waste when these opportunities are ignored. Looking for more ideas? Check out IRWD's water efficiency workshops and DIY videos. We also offer several indoor water-saving rebates to help.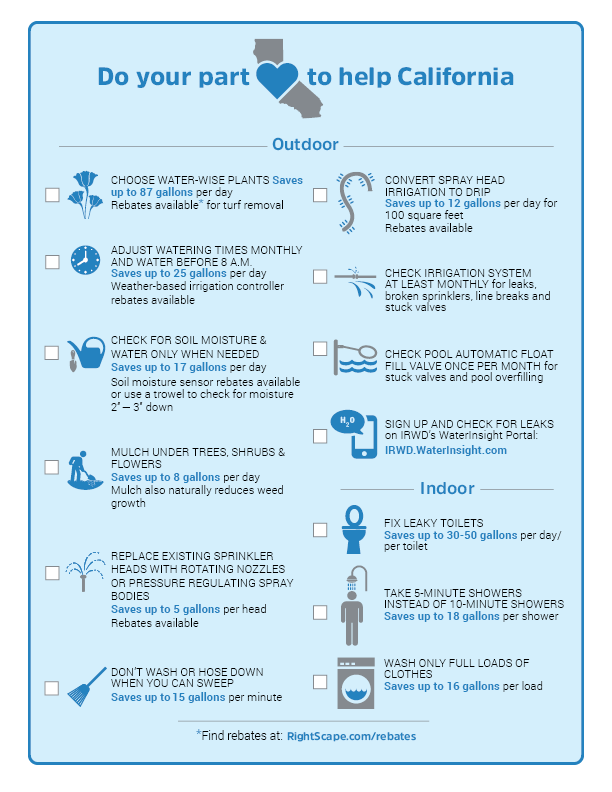 CUSTOMER RESOURCES
STATE GOVERNMENT RESOURCES
FEDERAL DROUGHT RESOURCES
HOW IRWD IS HELPING
Rightscape
Right plan.
Right plants.
For plant ideas, designs & drought tolerant landscape information
More Info