Irvine Business Complex Appurtenance Relocations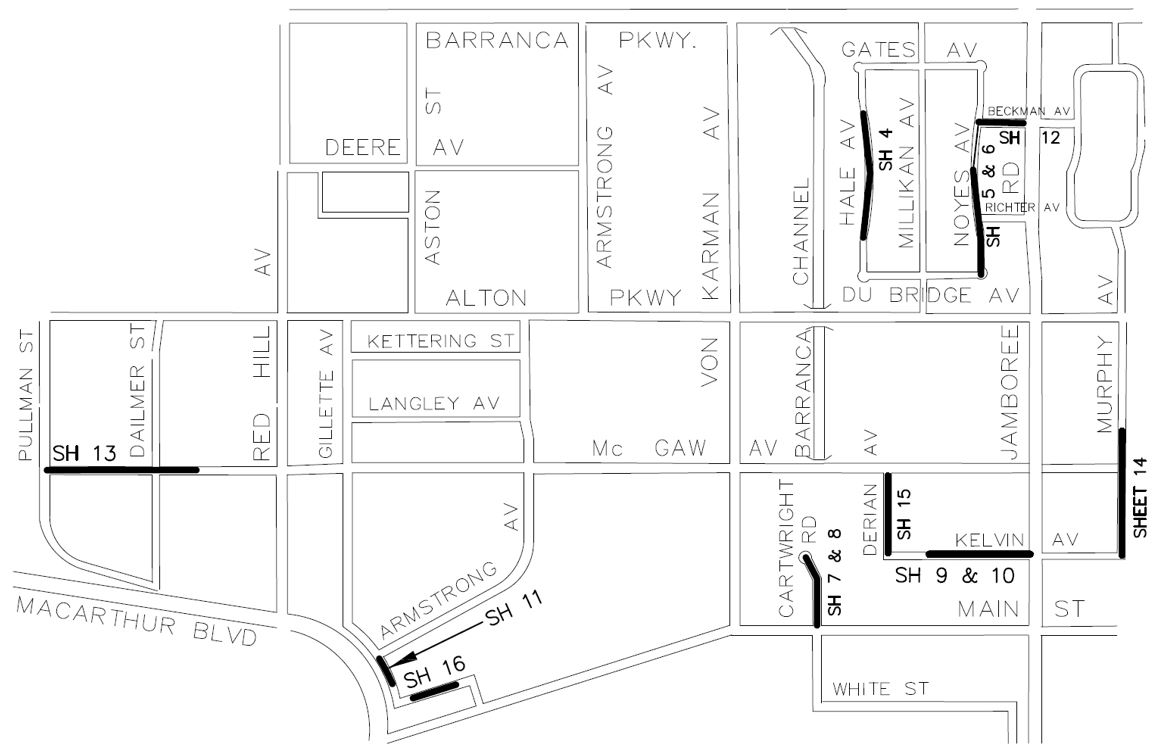 In preparation for an upcoming sidewalk improvement project to be conducted by the City of Irvine, Irvine Ranch Water District contractors will begin work Sept. 6 to relocate existing fire hydrants, backflow assemblies, pipeline, meter boxes and other appurtenances to make way for future sidewalks and retaining walls within the Irvine Business Complex. Construction will occur in various locations throughout the complex. (See construction areas marked in black in the map above.)
WHAT: Water distribution pipeline appurtenances relocation
WHEN: September 2022 through May 2023
WHERE: Beckman, Derian, Gillette, Hale, Kelvin, McGaw, Murphy, and Noyes avenues, and Cartwright Road.
WORK HOURS: From 9 a.m. to 3 p.m., Monday through Friday, and from 9 a.m. to 6 p.m. Saturdays
INFO: For questions regarding the project, contact the Communications Department at info@IRWD.com or 949-453-5500.
Week of Sept. 26: Sawcutting will begin along Kelvin and Derian avenues to locate utilities in anticipation of future roadwork. Work will be done on Hale on Saturday to put new appurtenances into service. Affected property owners have been notified in advance if their water is scheduled to be shut off during Saturday's work.
Week of Sept. 19: Relocations of water meters and other appurtenances will begin this week at isolated properties along Noyes, with water shutoffs planned for pre-notified properties on Saturday, Sept. 24. Customers who did not receive shutoff notifications are not expected to lose service during this period. Similar work will continue on Noyes in the next couple of weeks, and affected property owners will be notified in advance if their water is scheduled to be shut off.
Week of Sept. 12: Sawcutting and pre-excavation work will continue on Hale, and a fire line will be installed along Noyes Avenue. Testing will be done this week to identify buildings that will be affected by future water shutoffs required as construction progresses. Occupants of those buildings will be notified well in advance of any shutoffs. Pre-building materials will be brought to various locations toward the end of the week.
Week of Sept. 6: Construction is scheduled to begin Sept. 6, with sawcutting and pre-excavation work on Noyes, Beckman and Hale avenues. Work is expected to move to Kelvin and Derian avenues the week of Sept. 19.