Published: Apr 04, 2020 | 10:23 AM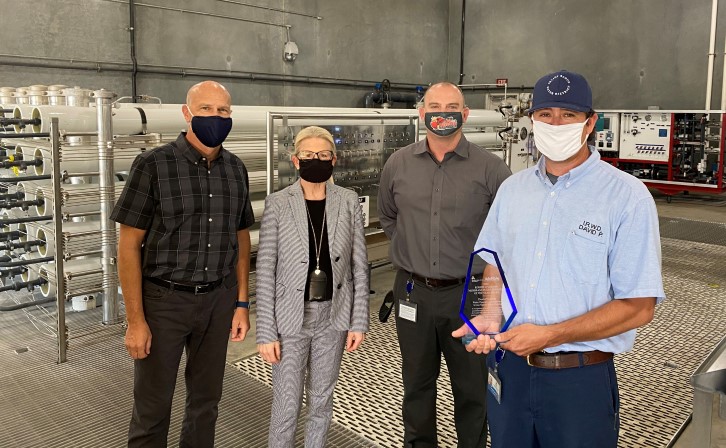 Dave Paulson Named Operator of the Year for the U.S.
He was best in the Southwest last year. Now he's best in the nation.
Operations Supervisor Dave Paulson has been named the American Membrane Technology Association's Operator of the Year, after receiving the Southwest Membrane Operator Association Chapter's Operator of the Year Award in 2019.
Both honors were presented in recognition of Paulson's many contributions to the field, as demonstrated through his work at IRWD.
"We are incredibly proud that Dave was recognized with this award," General Manager Paul Cook said. "This is a really big deal, and well deserved."
Paulson passed the accolades on to his team. "They're the reason this department looks good," he said. "Without them, we wouldn't be successful."
IRWD colleague Carl Spangenberg nominated Paulson for the award based on Dave's work overseeing daily operations of three membrane treatment plants, (DATS, Wells 21/22 Desalter, and Irvine Desalter); 18 reservoir management systems; two disinfection booster stations; and the Shallow Groundwater Unit that is central to the El Toro Groundwater Remediation Facility.
Among Dave's many contributions to the successful operation of IRWD's water treatment facilities, standout accomplishments include the following:
Identifying the use of alternative anti-scalants that reduced operating costs and enabled longer operating times at IRWD membrane plants;
Creating a "reverse flush" clean-in-place method that has been implemented to improve the performance and efficiency of membrane filters;
Upgrading ammonia tank level monitoring systems to an automated radar transmitter method that reduces exposure of ammonia vapor to operators;
Developing a filing and labeling system for chemical deliveries to better manage inventory and supply; and
Development of new patrol sheets and other administrative processes that enhance daily operations.
"Dave is a problem-solver and leads by example and action," Spangenberg said. "While under Dave's supervision, the District has experienced no lost time at all three membrane plants. Dave always puts safety first when it comes to the daily operation activities."
Paulson spent 10 years trying to get into the water industry, but the idea of water as a career came to him much earlier. At age 15 or 16, he was sitting out front in his yard one day, when he noticed the water meter reader making stops along his street.
"The guy had shorts on, and he was working outdoors," Paulson said. "I thought, 'That seems like a good job for me.'"
He worked in plumbing for a while, then finally landed a job as a meter reader at Trabuco Canyon Water District. He came to IRWD in 2011, first as an Operator II, then worked his way through the ranks to Water Operator III, then to Water Operations Supervisor.
During that time, he earned his Grade 5 Distribution Certificate, his Grade 4 Water Treatment Certificate, associate's degrees in water treatment and water science distribution, and a bachelor's degree in public administration, which he said gives him a broad understanding of how public agencies work.
"I think we all feel lucky to be here at Irvine Ranch Water District," Paulson said. "I see all these great things happening, and I'm just grateful and humbled to be a part of it."
This isn't the first time a member of the IRWD Team has received the American Membrane Technology Association's Operator of the Year award. Former Water Operations Supervisor Wayne Wright received the award in 2010.
(In photo above, IRWD General Manager Paul Cook, Executive Director of Operations Wendy Chambers, and Operations Manager Ken Pfister celebrate Paulson's award with him at the Potable Treatment Plant, where masks are being worn as a COVID-19 safety measure.)