Natural Treatment Site: San Joaquin Marsh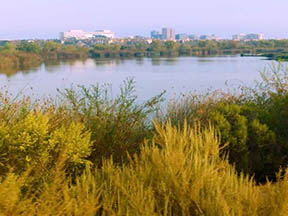 The San Joaquin Marsh is IRWD's flagship NTS site. Due to the success of the marsh as a treatment wetland and the benefits it provided to the Upper Newport Bay in removing nutrients, the other NTS sites were developed. The site has a long history; although it has always been a wetland, it was historically a Duck Club used for hunting, later to be transformed into the treatment wetlands in 1997.
The removal rates for the marsh are quite impressive, especially in terms of nitrogen removal. From July of 2019 to June of 2020, about 45,000 pounds were removed, preventing these nutrient from accumulating in the Upper Newport Bay.
The marsh vegetation has filled in quickly since planting, and even the last group of treatment ponds (finished in 2002) has grown in well. Vegetation continues to be added to the Marsh through various projects. Went online September 1997.
Location & Size

Location: 3512 Michelson Drive, Irvine
Size: 320 acres
Tributary Watershed: 75,000 acres

Biological Values

The San Joaquin Marsh has become an important biological asset in the region. It is a stopover for many bird species migrating along the Pacific Flyway. The overall size of the marsh provides on-site nesting habitat for approximately 70 species of birds. Over 280 species have been documented as occurring since 2000.
The adjacent San Diego Creek and its associated riparian habitat also act as a corridor for birds and other mobile wildlife to access the marsh. For a complete list of bird species observed at the Marsh, see the Sea & Sage Audubon Checklist.
Floral diversity is impressive for a site of this size; over 120 species of plants have been documented from the site as well.
Maintenance

Routine Maintenance Activities:
TruGreen LandCare provides routine irrigation and landscape maintenance services at the site. Additional work such as mulch replacement, irrigation repairs, aquatic herbicide application, aquatic vegetation removal, and sediment removal were performed throughout the year.

System operations staff performed weekly site inspection, water quality monitoring, and landscape and irrigation maintenance review.
Major Repairs: The North Loop trail was resurfaced to allow users and operations staff easier access to sections of the marsh.
Major Improvements: Currently, the adjacent Michelson Plant is under major renovation which has affected some areas of the marsh.