IRWD Resident Tours Highlight Expanded Water Recycling Plant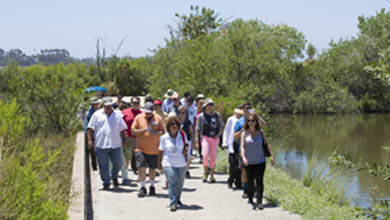 The spring water awareness resident tours are designed to not only inform our customers about where their water comes from, where it goes after going down the drain and how to conserve this precious resource, participants are also treated to up close and personal views of IRWD infrastructure.
Our recently completed spring tours featured our newly expanded Michelson Water Recycling Plant and an old favorite for our visitors – the San Joaquin Recycled Water Reservoir.
Tours of MWRP were suspended in fall 2009, when the massive expansion project began. The plant now includes a membrane bioreactor with two aeration basins and eight process trains, which produces high-quality water ready for disinfection and reuse. In addition, the new ultra-violet disinfection system treats water cleaned in the MBR by flowing the water past ultra-violet light tubes. The expansion allows IRWD to treat up to 28 million gallons of sewage per day.
IRWD has conducted tours for our residents and those who work in our service area for more than 20 years.
A sample of comments received from the most recent attendees:
The tour helped to supplement and reinforce information given by the speakers
This was an excellent tour. It's accessible and the tour staff was helpful. I would recommend it to others!
I enjoyed the Water Quality Lab demonstration
I will tell my friends and neighbors about this tour
The San Joaquin Marsh is beautiful! I never knew it was there. I will come back and visit with my family.
More information on our tour program is available on our website.
Contact: Cheryl Kelly, Public Affairs Specialist
kellyc@irwd.com, (949) 453-5500