Audubon House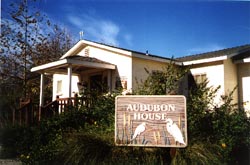 The Audubon House once served as a bunk house for the members of two duck clubs that operated at the San Joaquin Marsh from the 1940s until 1988. The area was once known as the old San Joaquin Gun Club complex. The permit was not renewed by the City of Irvine in 1988 as the area grew and homes were built nearby.
The old bunk house, along with the Duck Club facility, were moved to their present location from what became the Tustin Marine Base (AKA: Lighter than Air Base) in the 1940s. The duck hunters slept and kept the guns in this house. The Duck Club was used for gathering.
Today, IRWD provides the Audubon House facility to the local Sea and Sage Chapter of the National Audubon Society, an organization dedicated to teaching about birds, wildlife and conservation. The Audobon House, staffed by Sea and Sage Audubon Society volunteers, is open to visitors from 8 a.m. to 4 p.m. daily.
Audubon offers public tours of the marsh, educational programs, materials and displays, and a reference library for birders, students and nature lovers. Programs and activities are designed to increase public appreciation and awareness of the beauty and diversity of wildlife in the San Joaquin Wildlife Sanctuary. More than 3,000 students from local schools visit the sanctuary for the Audubon Adventures Program and approximately 12,000 marsh visitors and bird watchers visit the site each year. The San Joaquin Wildlife Sanctuary is recognized as a premiere birding site.
For more information, contact the Sea and Sage Audubon Society at (949) 261-7963.