Drought response 15% savings sweepstakes
DON'T WASTE A GOOD THING
Even small acts, accomplished by many, can add up to significant water savings to help meet the governor's request for 15% voluntary water use reductions around the state.
Do your part by accomplishing one or more of the actions below, take a selfie with the work you did, and submit it to us through the entry form below.
The more you do, the more you save – and that helps everyone. Submit a new checklist with new accomplishments each month through November to increase your savings and your chances to win.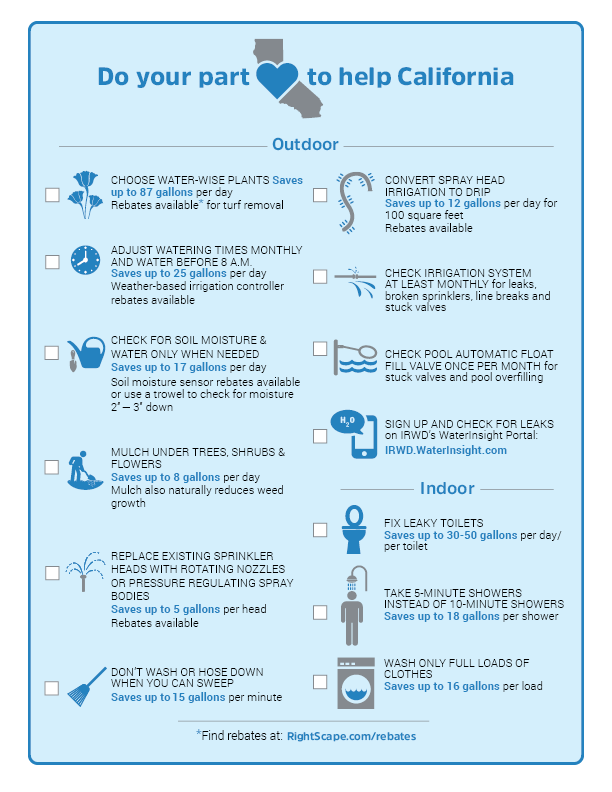 STEP 1:
Accomplish one or more tasks. The more you do, the more you save!
STEP 2:
Check completed items on the list above (printable version here).
STEP 3:
Take a selfie while completing your task as verification of your water-saving act.
STEP 4:
Fill out the form below and upload your checklist and photo(s).
STEP 5:
Click "submit" to enter that month's sweepstakes.
STEP 6:
Submit new actions each month through November to be entered into a Grand Prize Sweepstakes for the chance to win a $500 gift card.
SWEEPSTAKES GUIDELINES
•

The sweepstakes begins August 20, 2021, at 12:01 p.m. PDT and ends on November 30, 2021, at 11:59 a.m. PST.

•

IRWD will give away one $100 Home Depot gift card among entries submitted for each month of the sweepstakes.

•

Customers who submit new tasks in August, September, October and November will be entered for the chance to win the Grand Prize Sweepstakes of a $500 Home Depot gift card.

•

Results will be announced by email or phone on the 15th of the following month.

•

Only one entry per household per month.

•

Must be an IRWD customer to win. IRWD employees are not eligible for a prize.

•

All photos become property of IRWD.

•

FOR FULL SWEEPSTAKES RULES, CLICK HERE.
ENTRY FORM
*Required fields
SIGN UP FOR TIPS, MONTHLY REMINDERS AND MORE!
Another way to enter the sweepstakes is to sign up and use your free WaterInsight Portal to check for leaks in your home.
WaterInsight provides a rich resource of helpful information to help you track and reduce your water use. The site provides real-time tracking of water use; sends alerts to help identify leaks, and provides information on how to resolve them; and provides specific suggestions on ways you can save money each month on your bill, based on where you use water most.
1: Click here to log in to your WaterInsight Portal.
2: On the Home tab, navigate to the left of the page and select Check if I have a Leak.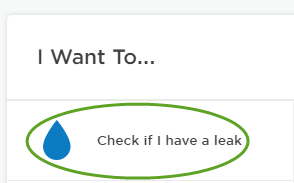 3: Select Start checking for leaks to begin the training module.

4: After reading the information and watching the videos, let us know what you found leaking! Then select submit to be entered in the sweepstakes.
5: If you didn't find a leak, let us know using the Contact tab at the end of the Check if I have a leak training to enter in the sweepstakes and so we can assist you with any ongoing issues you may be having around your home.
Need help? Contact a Water Efficiency specialist at 949-453-5581.