eBill FAQ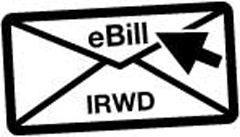 eBill is a free online electronic bill payment service offered by IRWD. It is an environmentally friendly and safe way to pay your bill electronically. eBill is an electronic version of your IRWD bill that is transmitted to your computer rather than delivered by the United States Postal Service, giving you the ability to view and pay your bill online.


 How do I Sign-Up for IRWD eBill?

You can sign up for IRWD eBill through Account Access on the irwd.com website. Our payment service is FREE! You will be asked to create a user name and password as well as provide account information.  Check out this informative video on how to sign up today.


 How do I receive and pay IRWD eBills?
Once enrolled, every month when your bill is prepared; you will receive an e-mail message stating that your eBill is ready to be viewed online. To pay your bill, simply select "pay" and authorize payment from your checking or money market account.
 What information do I need to enroll with eBill?
You will need your IRWD account number and a valid email address. To pay your bills through the eBill service, you will need your bank routing and account numbers for the bank account from which your payments will be deducted.
 Is there a fee for eBill?
No. This service is provided to you at no charge.
 Will I receive adjusted bills electronically?
No. Only regular, monthly bills will be transmitted to you electronically. If you receive a credit or an adjustment to your bill, those "special bills" will be sent via regular mail. You may call us or visit our website for your current adjusted A/R balance before paying your eBill. If you prefer not to receive adjusted bills in the mail, please let us know and we will be happy to stop those for you.
 How quickly will my bills be paid?
Payments begin processing two (2) business days prior to your scheduled payment date, so you'll need to schedule payments a few days prior to the due date.
You can also schedule payments up to a year in advance, and should you happen to schedule a payment to be received on a weekend or a holiday, it will automatically be adjusted to fall on the previous business day.
Paying bills electronically enhances your ability to control your payments, allowing you to better manage your cash flow and avoid late fees.
 I am not currently enrolled in Auto Pay. Can I sign-up online?
Yes! Enroll in IRWD's eBill service. Next, select "Worry Free Options" and enter the information required to have your bills paid automatically. Still have questions? If so, please contact IRWD by e-mail at customerservice@irwd.com or by phone at 949-453-5300. We are here to assist you Monday through Friday from 8:00 a.m. to 5 p.m.
 What happens if I fail to make an eBill payment?
If you fail to make a payment, regardless of form, you could be subject to late fees, interruption in service, and restoration fees. Failure to receive your bill will not release you from payment obligation nor will it entitle you to a billing discount or exempt you from late fees or service disconnection for non-payment. If you sign up for eBill, it is your responsibility to maintain a current email address, just as you would maintain a mailing address for your paper bill.