Published: Jul 31, 2014 | 21:20 PM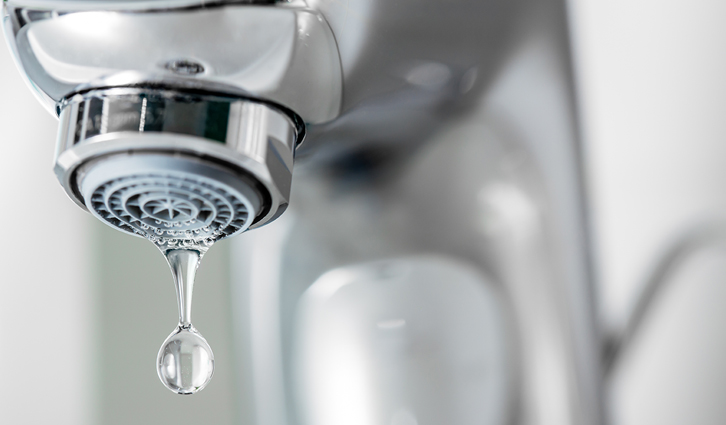 2014 Water Conservation Regulations in the News
By now you have seen the news, the statewide drought is getting worse, water storage levels are dropping and it's time for all Californians to get serious about saving water. While IRWD customers are accustomed to doing the right thing by saving water, now more than ever, everyone is encouraged to find new ways to save. Everyone can always do more.
To encourage California residents to save more water, the state of California has implemented outdoor water use prohibitions and given local water agencies the tools to implement penalties for customers who continue to waste water.
What are the new Statewide Water Restrictions?
1. The application of potable water to outdoor landscapes in a manner that causes runoff such that water flows onto adjacent property, non-irrigated areas, private and public walkways, roadways, parking lots, or structures;

2. The use of a hose that dispenses potable water to wash a motor vehicle, except where the hose is fitted with a shut-off nozzle or device attached to it that causes it to cease dispensing water immediately when not in use;

3. The application of potable water to driveways and sidewalks; and

4. The use of potable water in a fountain or other decorative water feature, except where the water is part of a recirculating system.
Will IRWD be Issuing Fines for Water Restriction Violations?
At this time, IRWD will utilize an alternative method to discourage water wasters. Customers that exceed their monthly budget will pay significantly more for their water use. The price increases will be assessed through the budget based rate structure. For example: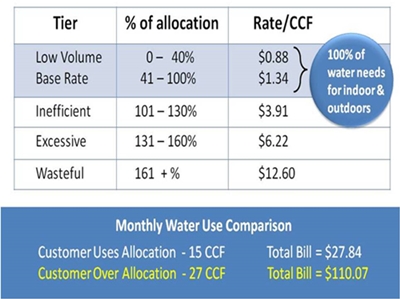 Will IRWD Limit Outdoor Watering to 2 Days Per Week?
No. IRWD will use the budget based rate structure to limit outdoor watering. Rather than specifying which days a customer can water their yard, IRWD will assign each customer a monthly water budget. This approach complies with the new state emergency drought regulations and promotes long term behavior changes by sending a strong price signal that something is wrong, maybe a water leak or broken sprinkler timer. Customers are able to fix these problems and understand how they cause water over use.
What if I Notice My Neighbor has a Water Leak or is Over-Watering?
IRWD encourages neighbors to work together to save water. Your neighbor may not be aware that IRWD has water use efficiency experts available to answer questions or meet with customers to help determine the best ways for them to track down water leaks. If you see inefficient water practices, please let your neighbors know that IRWD experts can be reached at 949-453-5494 or at calscape@irwd.com.
How Can Customers Further Reduce their Water Use?
There are many ways we can help customers to manage water usage to stay within monthly water budgets and keep rates low.
Want to Know More Details about the Statewide Water Regulations?
IRWD understands the importance of preserving California's water supplies, especially in times of drought, and has taken many steps over many years to encourage water use efficiency and the wise use of water including the implementation of innovative conservation measures. A key component of the District's efforts has been the use of the budget based rate structures which discourage overuse while providing for significantly reduced outdoor water use through meaningful tiered pricing for any inefficient water use. This rate structure, implemented in 1991, in response to drought conditions, has since achieved a 25% reduction in per capita water use for residential customers. The current average residential water use per person per day is around 85 gallons - far below the state average.
The IRWD Water Shortage Contingency Plan
Budget based rate structures are the foundation of IRWD's Water Shortage Contingency Plan, which is submitted to the state as part of the Urban Water Management Plan. The budget based rate structure allows the District to quickly respond to limited supplies through strong price signals, which subsequently result in the greatest conservation response from our customers.

The IRWD Water Shortage Contingency Plan meets State requirements and uses the budget based rate structure at all drought levels, except the most severe situation, to achieve necessary water use reductions. Only in the event of an extreme shortage, such as a system outage when supplies are only available for public health and safety needs, will IRWD use mandatory outdoor water restrictions.
How do the New California Emergency Water Conservation Regulations affect Agencies?
Recently, the State Water Resources Control Board enacted new water conservation regulations due to the ongoing drought conditions throughout the state. These new regulations are effective August 1, 2014 and prohibit certain outdoor water uses and require urban water agencies to do one of two things:
1. Implement mandatory outdoor water use restrictions that restricts outdoor watering to two days a week or implement outdoor water restrictions as dictated by their water shortage contingency plans, OR

2. In lieu of number 1, agencies like IRWD who have budget based rate structures may submit a plan that shows that the level of water conserved due to the rate structure is superior to that achieved by restricting outside watering to two days a week.
Which Option will IRWD Implement?
IRWD will be implementing Option 2. Due to hard work by IRWD customers and the implementation of a budget based rate structure in 1991, IRWD per capita water use has declined 25% since 1991. IRWD can demonstrate that the IRWD budget based rate structure achieves excellent water saving results with an average residential water use per person per day around 85 gallons – far below the state average. IRWD will not be implementing option 1.




How Can Customers Further Reduce their Water Use?
There are many ways we can help customers to manage water usage to stay within monthly water allocations and keep rates low.
*FY= Fiscal Year July 1-June 30