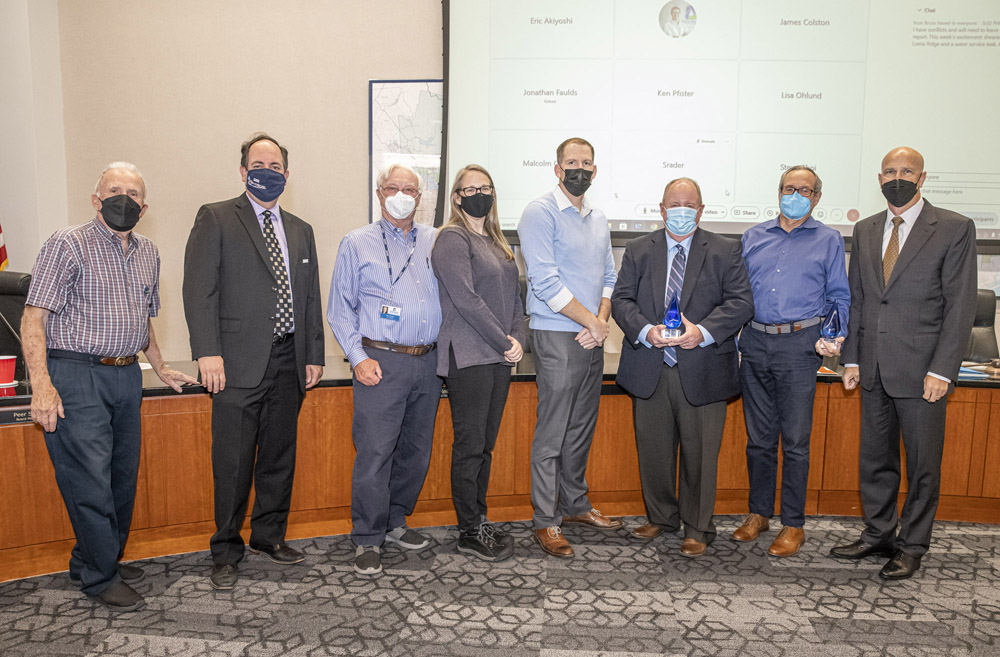 IRWD and UCI set example for the nation
When it comes to helping customers save water, Irvine Ranch Water District teams up with residents and businesses alike.
One of our earliest partners in our WaterStar business program is U.C. Irvine, which has been using IRWD recycled water on campus for more than 50 years.
Our collaboration with the university was recently honored with a national Award of Excellence from the WateReuse Association for accomplishments stemming from our decades of water-saving work:
Converting campus cooling towers to recycled water, saving 80 million gallons of drinking water each year.
Replacing turf with drought-tolerant landscaping, and installing high-efficiency fixtures on campus, saving another 300 million gallons of drinking water a year.
These and other projects have already pushed UCI well beyond the University of California's policy goal to cut water use 26% by 2025.
In photo above, left to right, are IRWD Board Member Doug Reinhart, WaterReuse Orange County Chapter President Scott Lynch, Board Member Peer Swan, Board Vice President Karen McLaughlin, UCI Manager of Construction Project Services Adam Feuerstein, UCI Assistant Director of Utilities Operations Jerry Nearhoof, IRWD Board President Steve LaMar, and IRWD General Manager Paul Cook.