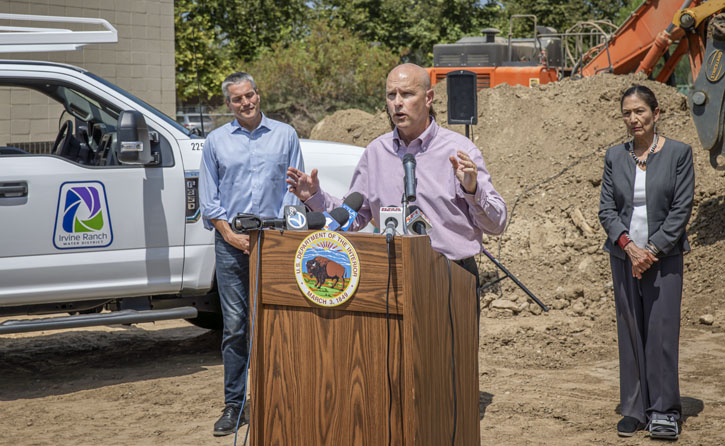 IRWD's Syphon Reservoir Improvement Project gets $12.2 million in U.S. funds
In the context of climate change and historic drought in California, U.S. Secretary of the Interior Deb Haaland announced $12.2 million in funding for Irvine Ranch Water District's Syphon Reservoir Improvement Project.
The Bureau of Reclamation grant will support a ten-fold expansion of the reservoir off Portola Parkway north of Irvine, enabling it to store more than 5,000 acre-feet of recycled water (1.6 billion gallons) for landscape irrigation and other uses.
IRWD's nationally acclaimed recycled water system already accounts for 28% of the water the District delivers. It is one or the reasons IRWD only imports 18% of its water from Northern California and out of state. But the Syphon Reservoir expansion will be a significant enhancement.
"Right now, we cannot store all the recycled water we produce in winter," IRWD General Manager Paul Cook explained. "The Syphon Reservoir project will give us the capacity to store all the recycled water we produce — so it's not wasted — and so we have plenty to draw from in summer when demand is high."
Recycled water is drought-proof, because it is made from water that goes down the drain in customers' homes. The water undergoes a multi-step treatment process at IRWD's recycling plants.
Recycled water is not for drinking, but it is vital to the community's water efficiency because it is reliable, cost effective, and helps keep water bills low. Almost all the public and commercial landscape in IRWD's service area — including parks, medians, college campuses, homeowners association properties, and golf courses — is irrigated with recycled water. It's also used for cooling towers and for concrete production, composting, and dust control on construction sites.
And every gallon of recycled water saves a gallon of drinking water.
Haaland and Bureau of Reclamation Commissioner Camille Calimlim Touton announced the Syphon Reservoir Improvement Project grant at an Aug. 18 news conference on the construction site of a new IRWD recycled water pumping station in Irvine. The Syphon funding is part of $310 million in WaterSMART Water Recycling and Reuse grants announced as part of President Biden's Bipartisan Infrastructure Law.
"It will take all of us, working together, to address the significant drought conditions and historically low water allocations we face," Haaland said, praising the Syphon Reservoir project, which is scheduled to be completed in 2028. "Recycled water projects like this provide flexibility for communities and help them stretch their drinking water supplies — bolstering water resources and helping to provide clear, reliable drinking water to people throughout the U.S."
Learn more
Syphon Reservoir Improvement Project video.
About Irvine Ranch Water District
Guided by the principles of customer service, employee development, resource management and community leadership, Irvine Ranch Water District provides high-quality drinking water, reliable sewage collection and treatment, drought-proof recycled water, and environmentally sound urban runoff treatment. Established in 1961 as an independent special district, IRWD serves a daytime population of 600,000 people in 181 square miles of central Orange County. Visit IRWD.com for more information.