Published: Nov 30, 2017 | 15:02 PM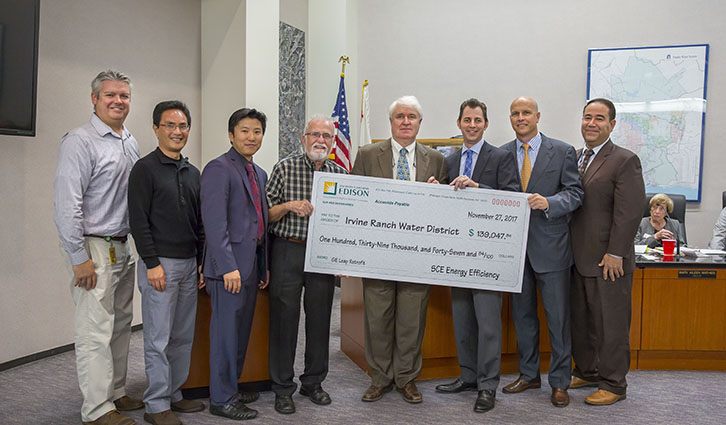 IRWD Lauded for Efficient Energy Use
Southern California Edison has presented the Irvine Ranch Water District with a $139,047 incentive check for energy savings related to a long-term water recycling project.
General Electric developed a proprietary enhancement for the existing Membrane Bioreactor (MBR) system that was installed at IRWD's Michelson Water Recycling Plant in 2014.  IRWD installed the next-generation MBR wastewater treatment technology called LEAPmbr, which reduces operational costs.
"It has exceeded original projections of energy savings," IRWD General Manager Paul Cook said.
The LEAPmbr system provides the lowest lifecycle costs available from any MBR technology, as well as cost savings, and operational simplicity combined with a compact footprint and reinforced hollow-fiber ultrafiltration technologies.
"In simple terms, the technology allows for more efficient cleaning of the membranes, ensuring lower energy usage over time," SCE account manager James Pasmore said during a check presentation at the Nov. 27 meeting of the IRWD Board of Directors.
Extensive analysis – coordinated between Hao Bui of SCE and Tom Bonkowski and Joe Lam of IRWD – originally estimated that the retrofit would save 666,855 kWh and 125.10 kW yearly. Installation was completed in late April 2017, data was logged during the summer, and final savings numbers exceeded expectations, delivering 843,361kWh and 167kW in verified reductions. Alex Coria, Gaspar Garza and Ricky Ruiz were also part of the project team.
This translates to a 3.5-year return on investment for the customer and represents 628 tons of avoided greenhouse gas emissions.
According to Pasmore, that's the energy equivalent of:
134 passenger vehicles driven for a year.
1.5 million miles driven by an average passenger vehicle.
70,625 gallons of gasoline consumed.
67.8 homes' energy use for a year.