Published: Jul 07, 2021 | 15:04 PM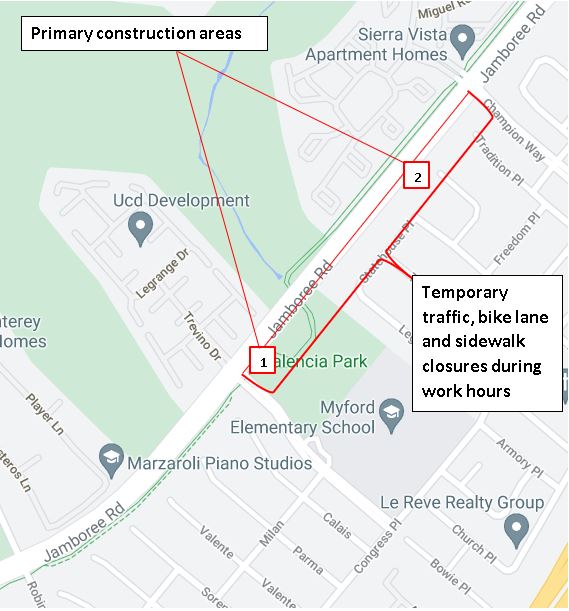 Construction update: Jamboree Road Valve Replacement Project
Irvine Ranch Water District contractors will begin construction work on Monday, Aug. 23, to replace the valve to a water pipeline in the northbound lanes of Jamboree Road between Trevino Drive and Champion Way. The work will require the temporary closure of two northbound traffic lanes, the northbound bike lane and sidewalk.
What: Jamboree Road Valve Replacement Project
When: Aug. 23 to mid-September
Work hours: 8:30 a.m. to 4 p.m., Monday through Friday
The two right northbound traffic lanes (lanes 2 & 3), the northbound bike lane and sidewalk will be temporarily closed during work hours and reopened at 4 p.m. each day.
For more information, please contact the Public Affairs department at info@IRWD.com or 949-453-5500 during business hours. After-hours questions should be directed to IRWD's customer service line at 949-453-5300.
Project Updates

+
Week of Sept. 20, 2021:
Final work on the project was completed this week.
Week of Sept. 12, 2021:
IIRWD construction services have replaced the last two buttefly valves, and expect to complete asphalt restoration before the end of the week.
Week of Sept. 6, 2021:
IRWD staff has completed the line stop and installed two of the four valves scheduled for replacement on Jamboree Road.
Week of Aug. 23, 2021:
Construction is scheduled to begin at 8:30 a.m. Monday, Aug. 23.