Sewer Savvy Thai Cafe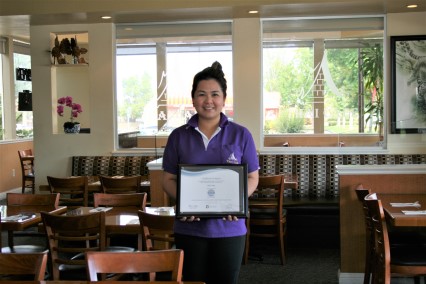 Thai Cafe, located at 14715 Jeffrey Road in Irvine, was honored with a Sewer Savvy Award for demonstrating consistent best management practices in the kitchen.
The family-owned restaurant, since 2008, has served up delicious Thai cuisine while following proper protocol and record-keeping, including employee training, kitchen practices, maintenance of drains, grease receptors and food-service-establishment guidelines.
Ameilia Arief, a manager of the restaurant, said employee education is an important part of Thai Cafe's business model. "We train people to do everything correctly, and to practice what they've learned every day on the job," she said.
For information, call 949-559-5382.
(Photo above: Thai Cafe employee Potchanee Plaipetnoi accepts the Sewer Savvy award on behalf of the restaurant.)